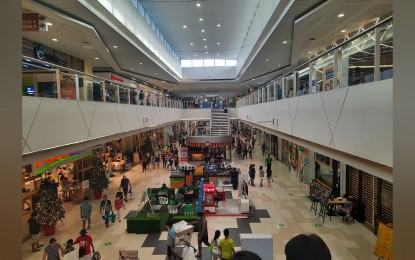 MANILA – The chairman of the House Committee on Appropriations on Tuesday said President Ferdinand R. Marcos' decision to make the use of face mask in indoor settings voluntary combined with the economic impact of the 2022 and 2023 national budgets would result in more economic growth.
AKO BICOL Party-list Rep. Elizaldy Co said he is expecting the country's gross domestic product (GDP) to further improve in the last two quarters of 2022 with the calibrated lifting of coronavirus disease (Covid-19) restrictions and the continuing reopening of the economy.
He further noted that the swift implementation and high agency 2023 budget absorptive capacity would carry forward that GDP growth.
"The lifting of some mask mandates indoors I believe is quite justified. Further calibrated lifting of Covid restrictions plus the economic impact of the 2022 and 2023 national budgets will result in more economic growth," he said.
He said the Department of Health has proved during the budget hearings the success of their safety protocols and the Covid-19 bulletins show results of consistent defense against the disease.
"DOH and the local governments have had Covid-19 spread under good manageable conditions for many months now. Fears of coronavirus resurgence have been addressed with continuing vigilance which has proven effective," he said.
He said his panel has taken note of the most important 2023 budget requests of the DOH and other agencies to sustain the public health and economic gains the country has earned against Covid-19 and economic difficulties.
"Here in the House, we are preparing for the bicameral conference committee on the budget bill to ensure those gains are achieved in 2023," he added.
Tourism Secretary Christina Frasco earlier said Marcos approved the recommendation of the Inter-Agency Task Force for the Management of Emerging Infectious Diseases (IATF-EID) during Tuesday's Cabinet meeting to issue an executive order (EO) allowing the voluntary wearing of face masks in indoor places.
"As a result of the Cabinet meeting this morning, it was agreed that the President will be issuing an executive order, per the IATF recommendation, to make indoor mask wearing also voluntary all over the Philippines, with few exceptions," she said.
Frasco said the use of face masks will still be required in public transportation, medical transportation and medical facilities.
Unvaccinated individuals, people with comorbidities, and senior citizens are still "highly encouraged" to wear face masks, Frasco said.
"But generally, the direction of the Marcos administration is to lift the remainder of travel restrictions into the Philippines, and that includes easing of our mask mandates to allow our country to be at par with our Asean neighbors [which] have long liberalized the mask mandates," she said. (PNA)