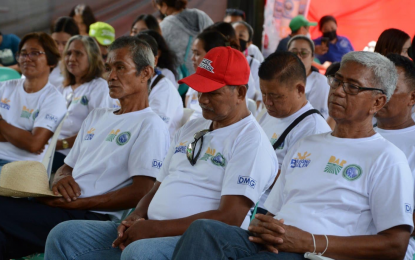 MANILA – The Department of Agrarian Reform (DAR) has recognized the contribution of elderly Filipino farmers who continue to bring food to Filipino families despite their advanced age.
In Quezon province, 50 elderly agrarian reform beneficiaries were honored and given food packs, according to a DAR news release on Tuesday.
"We are giving this tribute to our elderly farmers for their role in providing the Filipinos with food. At their age, they are still working in the fields for the country's food supply," said Cupido Gerry Asuncion, DAR 4-A (Calabarzon) director.
"Despite the limitations and obstacles caused by various circumstances like the pandemic, many senior citizens, especially elderly farmers, continue to work for their families, and contribute to their communities, and the country."
A study by the University of the Philippines Los Baños last year showed that the average age of the Filipino farmer is 53 years old.
Notwithstanding their age, the DAR said older farmers continue to go out to ensure food security, even at the height of the coronavirus disease 2019 (Covid-19) pandemic that made them more vulnerable to infections.
The same study said the younger generation has no interest in farming despite the Philippines' vast agricultural lands and bodies of water.
Agrarian Reform Secretary Conrado Estrella III previously said his department would continue to address farmers' needs, based on President Ferdinand R. Marcos' directives to intensify the provision of support services, such as more infrastructure facilities, machinery, equipment, inputs, and development training.
The DAR is likewise planning to provide farmers with medical assistance through a partnership with the Department of Health.
The tribute is part of the celebration of the Elderly Filipino Week. (PNA)