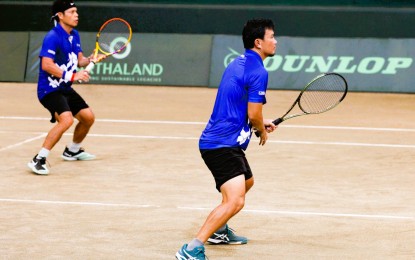 MANILA – Defending champions Johnny Arcilla and Ronard Joven coasted to a 6-2, 6-0 victory over Alex and Jules Lazaro on Tuesday to reach the third round of the men's doubles competition in the 39th Philippine Columbian Association (PCA) Open Tennis Championships at the PCA indoor shell court in Plaza Dilao, Paco, Manila.
Arcilla and Joven will next meet qualifiers Jude Padao and Harvey Gilbuena, who pulled off a 6-2, 6-4 win over Jackey Mirabueno and Vince Serino.
Second seeds Leander Lazaro and Fritz Verdad, No. 8 seeds Jose Antonio Tria and Bryan Saarenas, and the unseeded pair of Edilberto Anasta and Jeson Patrombon also moved to the next round.
Lazaro and Verdad defeated Jose Bernardo and Mateo Victor Rivas, 6-2, 6-0, to advance against John Renest Sonsona and Jordan Cimafranca, who walked over Sebastian Santos and Symon Jaculan.
Tria and Saarenas outplayed Abdulquohar Allian and Argil Lance Canizares, 6-3, 6-2, to forge a third round showdown with qualifiers Richard Bautista and John Steven Sansona, who beat Jeleardo Amazona and Christian Fel Lopez, 6-4, 6-3.
Anasta and Patrombon clobbered Marc and Wilmer Sabas, 6-0, 6-1, to advance against John Tomacruz and Franklin Encarnacion, a 6-0, 6-4 winner over Matthew Crisosto and Maraphael Teng.
Anasta has five doubles titles at the Palawan Pawnshop Men's Open this year, including four with Patrombon. His other title victory was with John Altiche in Tagum, Davao del Norte.
Other winners were qualifiers Alexis Acabao and Erik Tangub over Gab Bandoquillo and Feb Deja, 6-2, 7-5; Heinz Asian Carbonilla and Lajon Gonzaga over Kyle Parpan and Jonah Cano, 7-5, 7-6; Alberto Villamor and Rash Manatad Jr. over Andrei Cagmat and Elvin Geluz, 6-4, 6-0; Norman Enriquez and Jose Marie Pague over Al Francis Andrade and RJ Virrey, 3-6, 6-0, 10-6; Kristian Tesorio and Rafael Liangco over John Altiche and John Jeric Accion, 6-4, 5-7, 10-5; Joshua Kinaadman and Nilo Ledama over Jude Andrei Ceniza and John Rey Moreno, 6-3, 6-0; and qualifiers Fritz Bernales and Noel Salupado over Michael Fuentes and Jed Justine Labosano, 6-1, 6-1.
Meanwhile, top seeds Marian Capadocia and Angeline Alcala prevailed over qualifiers Danna Abad and Rovie Baulete, 6-2, 7-5; Jenaila Rose Prulla and Makeliah Nepomuceno outplayed Joshea Malazarte and Jesha Mae Cervantes, 7-6, 7-6; and Elizabeth Abarquez and Alexa Joy Milliam trounced Rina Caniza and Joana Victoria Pena, 6-2, 6-1, in the first round of the women's doubles category.
The men's singles champion will receive PHP200,000 while the winner in the women's singles will get PHP100,000. Prizes in the doubles are PHP70,000 (men's) and PHP35,000 (women's). (PNA)