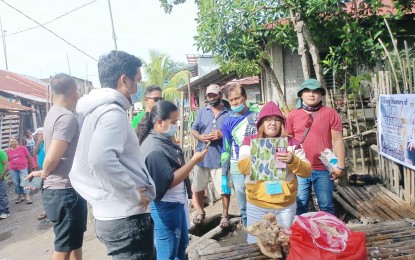 BACOLOD CITY – Negros Occidental Governor Eugenio Jose Lacson said on Tuesday that President Ferdinand R. Marcos himself acknowledges the right of local government units (LGUs) to regulate the entry of pigs and pork products in their respective areas amid the threat of African swine fever (ASF).
"That's continuing (referring to the confiscation of pork products arriving in the province). The President also recognizes that the LGUs really have the right to control the entry of pork. There's no question that as an LGU, we have that right to decide where we can accept pork from," Lacson told reporters.
He added that such right of the LGUs was also sustained by Interior Secretary Benjamin Abalos Jr.
Lacson met with Marcos, whose party also included Abalos, during his visit to Negros Occidental and Bacolod City on Sunday.
Negros Occidental, which has a PHP6-billion hog industry, is an ASF-free province.
Starting Oct. 14, Negros Occidental prohibited the entry of all pigs, pork, pork products, and other related items from the neighboring provinces of Iloilo, Antique, Capiz, Aklan, and Guimaras, following a reported incidence of ASF in Oton, Iloilo.
The ban also is being enforced for Luzon, Mindanao, and Eastern Visayas, which all have confirmed cases of the swine disease.
Since September 2019, millions of assorted pork products have already been confiscated, sent back, or destroyed in various ports of entry and seized in establishments around Negros Occidental.
On Tuesday afternoon, officials of Barangay Tuburan in E.B. Magalona town seized five kilos of raw pork that came from Tapaz, Capiz at a wake in Sitio Panaosawon.
With the assistance of the Municipal Agriculturist's Office and the Provincial Veterinary Office, they burned the confiscated meat, village chief Ramonito Espacio Jr. said.
In an earlier memorandum, Lacson directed the members of the Provincial ASF Task Force to conduct rigid and stringent screening and inspection of incoming shipments of live animals and pork products from Panay and Guimaras; hold checkpoints to intercept and control the movement of live animals, pork, pork products, and other related items entering the province; and confiscate and condemn undocumented shipment of live animals and animal products into the area. (PNA)