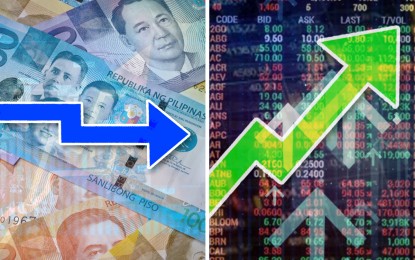 MANILA – Bargain hunting again boosted the local equity market's main gauge on Tuesday while the peso finished the day sideways against the US dollar.
The Philippine Stock Exchange index (PSEi) rose by 0.74 percent, or 44.62 points, to 6,073.41 points.
All Shares followed with a jump of 0.51 percent, or 16.45 points, to 3,233.12 points.
Most of the sectoral indices also gained during the day – Financials, 1.45 percent; Holding Firms, 0.88 percent; Property, 0.77 percent; and Industrial, 0.65 percent.
On the other hand, Services went down by 1.09 percent, and Mining and Oil by 0.59 percent.
Volume was thin at 306.07 million shares amounting to PHP4.37 billion.
Decliners were higher over advancers at 95 to 74, while 48 shares were unchanged.
"Investors continued to bargain hunt into the Philippine market as the first batch of 3Q (third quarter) earning(s) indicated the economy has been able to withstand the downturn of the global economy," said Luis Limlingan, Regina Capital Development Corp. head of sales.
Limlingan said "bets were also being made on the possibility that BSP (Bangko Sentral ng Pilipinas) may raise the benchmark rates by more than 100 bps (basis points) before the year ends to match the step of the Fed rate hike moves."
Oil prices declined in the international market on data showing still weaker demand from China, with the December futures for Brent down by 0.03 percent to USD93.47 per barrel and the West Texas Intermediate by 0.24 percent to USD84.85 per barrel.
The local currency still managed to keep its footing against the US dollar and ended the day at 58.78 from the previous day's 58.87.
It opened the day at 58.87, weaker than Monday's 58.70, trading between 58.87 and 58.78. Its average stood at 58.824.
Volume reached USD561 million, lower than the USD633 million in the previous session.
Rizal Commercial Banking Corp. chief economist Michael Ricafort traced the local unit's performance to the impact of the US dollar's correction, partly because of the softer manufacturing and services data from the US that "indicated that Fed (Federal Reserve) rate hikes are beginning to slow economic activity and amid some concerns by some Fed officials about over-tightening by the Fed."
"Global market sentiment is also supported by the rally in UK (United Kingdom) bond prices, manifesting support for incoming UK Prime Minister Rishi Sunak after UK market volatility in recent weeks," he said.
Ricafort said the rise of the local bourse's main index and the drop in the prices of oil in the international market also helped buoy the peso.
He forecast the local unit to trade between 58.65 and 58.85 to the US dollar on Wednesday. (PNA)