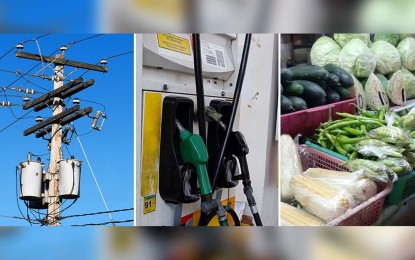 MANILA – The Bangko Sentral ng Pilipinas (BSP) said it will continue to monitor risks to inflation as the rate of price increase remains elevated, and backs targeted support to vulnerable sectors.
In a statement on Tuesday, the central bank said it supports the national government's measures towards ensuring adequate supply of key food items.
"The overall supply of agricultural commodities continues to be restricted by low farm productivity and high production costs, worsened by global supply disruptions, persistent animal diseases, uncertainties due to the Ukraine-Russia conflict, and tariff and non-tariff restrictions on agricultural trade," it said.
The BSP said addressing high inflation requires a whole-of-government approach to protect vulnerable sectors of the economy from the impact of high prices.
It has been increasing its key policy rates to help address the accelerating inflation rate caused partly by the rise in global oil prices and supply issues of several food items, both here and abroad, due to the impact of the Russia-Ukraine conflict.
The national government has been boosting supply of several food items such as pork, rice, and sugar to help limit its impact on domestic inflation rate.
The BSP said targeted measures by the national government to improve farm productivity and address bottlenecks for key food items are crucial in mitigating supply-side pressures on inflation.
"The central bank's monetary policy actions are also working in tandem with fiscal policy and programs to prevent inflation expectations from becoming more entrenched," it added. "The BSP remains vigilant in monitoring all risks to the inflation outlook and is prepared to take all necessary monetary policy action to bring inflation toward a target-consistent path over the medium term, and in turn, steer the economy toward a sustainable growth path."
Domestic inflation rate accelerated to 6.9 percent last September, the fastest since October 2018, after decelerating to 6.3 percent in the previous month.
The average inflation in the first three quarters of the year stood at 5.1 percent, higher than the government's 2-4 percent target band.
Monthly inflation rate surpassed the government's target band last March when it rose to 4 percent due mainly to upticks in global oil prices and supply constraints of several food items.
It was on the rise for five consecutive months until a deceleration last August because of slower movements in the transport and the food and non-alcoholic beverages indices. (PNA)