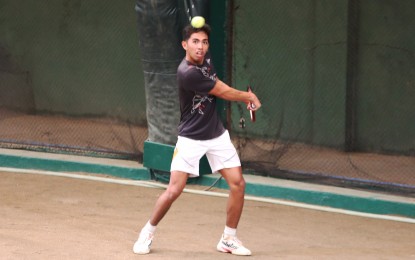 MANILA – Philippine Army's Elbert Anasta displayed nerves of steel to earn a quarterfinal berth in the men's singles of the 39th Philippine Columbian Association (PCA) Open Tennis Championships at the PCA indoor shell court in Plaza Dilao, Paco, Manila on Wednesday.
The fourth-seeded Anasta needed two hours and 20 minutes to overcome the unseeded Alexa Acabo, 2-6, 6-4, 7-6 (2).
"He really played well in the first set, he overpowered me," Anasta said after the gruelling encounter.
Anasta managed to win the second set but Acabo fought back in the third set which went into tiebreak.
"I was able to adjust my game. I noticed that he was not hitting the ball so hard and that's when my confidence went up," said Anasta, who will next meet the winner between fifth seed No. 9 seed Ronard Joven and Indian Muthu Aashitiya Senthilkumar.
Unseeded Jose Maria Pague also made it to next round after pulling off a 1-6, 7-5, 6-4 upset win over No. 6 Fritz Verdad.
"I did not expect to win but I am glad I did," said the soft-spoken player from Ipil town in Zamboanga Sibugay province.
Pague bagged his first singles title at the Palawan Pawnshop Open in Dumaguete City two weeks ago. He also won the doubles crown with AJ Alejandro of Cotabato City.
"Hopefully, I can continue my winning form," said Pague, who has two more doubles titles, one with Alejandro and the other one with Norman Joseph Enriquez.
Pague will face the winner between No. 3 seed Jed Olivarez and unseeded Spanish Guillermo Olaso, a professional player who has been coaching in Singapore for the past seven years.
As expected, top seed and defending champion Johnny Arcilla and second seed Jeson Patrombon hurdled their respective matches.
Arcilla downed Norman Enriquez, 6-0, 6-2 to set up a quarterfinal showdown with former national player Joseph Victorino, who defeated No. 14 seed John Renest Sonsona, 6-3, 6-4.
Patrombon, the 2019 Manila SEA Games doubles champion, posted a 6-2, 6-2 victory over Heinz Asian Carbonilla to advance against No. 8 seed Jose Antonio Tria.
The 20-year-old Tria, a college freshman taking up Legal Management at the Ateneo de Manila University, eliminated qualifier Jude Michael Padao, 6-1, 6-3.
In the women's singles, reigning champion Marian Capadocia beat Annika Diwa, 7-6, 6-0, to advance against unseeded Kayle Emana, a 6-2, 6-0 winner over Kryshanna Brazal.
In other matches, US-based Makeliah Nepomuceno ousted No. 8 Angeline Alcala, 6-4, 6-2; No. 7 Alexa Joy Milliam over Mikaela Vicencio, 6-1, 6-1; and Justine Hannah Maneja over Joana Tan, 6-4, 6-4.
The tournament offers PHP200,000 in cash to the men's singles champion and PHP100,000 to the women's singles champion. In the doubles category, the winners will get PHP70,000 (men's) and PHP35,000 (women's). (PNA)