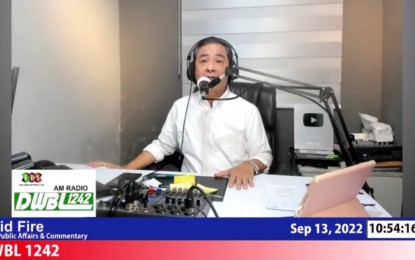 MANILA – The Department of Justice (DOJ) will release the result of the second autopsy conducted on the remains of inmate Jun VIllamor, the alleged middleman in the killing of newsman Percival "Percy Lapid" Mabasa.
"Tapos na yung autopsy na kinonduct ni Dr. Fortun. She will come up with a write-up by Friday, so just give her the time to prepare for the results of the autopsy. We can be able to discern from that kung ano ang kanyang findings (The autopsy has been completed, we will just wait for the written report of Dr. Fortun by Friday)," DOJ Secretary Jesus Crispin "Boying" Remulla said Wednesday.
Villamor died while inside the New Bilibid Prison (NBP) shortly after he was identified as the "middleman" in contacting the hired killers who planned Mabasa's murder.
Remulla also said the police are still conducting an investigation into the sibling of the inmate who apparently received a cellphone message from her brother from inside the NBP hours before he turned up dead.
"Her testimony is very important because she was a recipient of a text message which is a form of a dying declaration. I look at it as a dying declaration an exception to the hearsay rule and which where he (Villamor) said "pag namatay ako, ilabas nyo ito". He was conscious that he was in danger the time that he texted that and that was around 2 hours before he was declared dead. It's very, very important, his testimony is very important because of the contents of the testimony as I said it is an exception to the hearsay rule. It's not even hearsay any more kasi text na siya," he said.
The DOJ chief said authorities are also pursuing its investigation on Mabasa's case to unmask the mastermind and not just middlemen who facilitated the attack.
"We want to go up as far as we can when it comes to the mastermind. We are determined to find out if there is anybody else influencing this case from a higher level from where we have it already," Remulla told reporters.
The DOJ chief said investigators will be working with the Anti-Money Laundering Council (AMLC) to verify information provided by self-confessed gunman Joel Escorial on how he received payments in exchange for assassinating the broadcaster last Oct. 3.
Remulla said at least seven names of "persons of interest" have been identified and one is already under custody by the National Bureau of Investigation (NBI) and the Philippine National Police (PNP).
Meanwhile, Bureau of Correction (BuCor) officer-in-charge Gregorio Catapang Jr. said his team will be introducing K-9 teams shortly in NBP that can track cellphones smuggled inside the sprawling prison complex. (PNA)