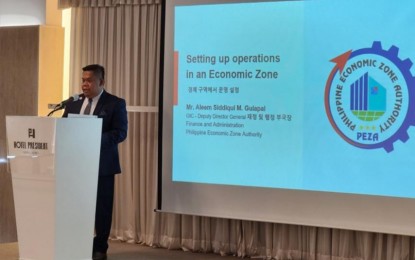 MANILA – At least four big companies from South Korea are interested to invest in the country in the coming months following the recent investment mission of the Philippine Economic Zone Authority (PEZA) and Aboitiz InfraCapital in Seoul.
PEZA officer-in-charge Deputy Director General for Finance and Administration Aleem Siddiqui Guiapal told the Philippine News Agency in a Viber message Wednesday that these companies are in the sectors of electric vehicles and manufacturing.
"We are optimistic that PEZA has at least four big companies of (investment) lead(s) of new locators and one potential joint collaboration on waste management with South Korea," he said.
Guiapal, who is also the manager for PEZA's Promotions and Public Relations Group, added that the South Korean firms have yet to finalize the amount of their possible investments here.
Last Oct. 19, PEZA, Aboitiz InfraCapital, the Department of Trade and Industry (DTI), Board of Investments (BOI), and the Philippine Trade and Investment Center (PTIC)–Seoul conducted the Philippine-Korean Investment Forum as part of the government's five-day outbound investment mission in the East Asian country.
"This is a response to the call of President (Ferdinand) Bongbong Marcos to increase our FDI (foreign direct investments). An increase in investment means more jobs for Filipinos. And more jobs mean better and quality of life for our kababayans (fellow Filipinos). This is what (the) investment forum is all about," Guiapal said.
As of June 2022, PEZA has registered 251 South Korean companies with total investments of PHP89.86 billion in economic zones across the country.
Some 44,359 workers are employed by these South Korean firms and generated USD1.1 billion in export revenues as of August 2022.
Guiapal added that the government aims to conduct outbound investment missions in Japan and the United States before the year ends. (PNA)