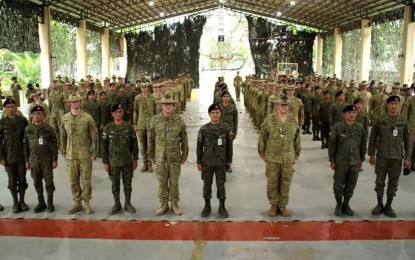 MANILA – The Philippine Army (PA) announced that the more than two-month-long "Exercise Kasanggga" between Filipino and Australian troops formally ended on Tuesday.
"The First Scout Ranger Regiment (FSRR) and the 3rd Royal Australian Regiment (3RAR) concluded Exercise Kasangga 22-02 on October 25, 2022, at Camp Pablo Tecson, San Miguel, Bulacan," PA spokesperson Col. Xerxes Trinidad said in a statement Thursday.
He added that the bilateral exercise bolstered defense ties and strengthened interoperability between the two armies in urban and jungle operations.
"Around 440 training participants trained side-by-side in urban combat operations and exchanged expertise in jungle operations, reconnaissance, mortar training, combat medic, drone operation, and anti-armor training," Trinidad said.
He also said Australian troops also underwent a training program in Filipino indigenous martial arts, Pekiti Tirsia Kali, and combat tracking training which helped sharpen jungle operations.
FSRR commander Brig. Gen. Freddie T. Dela Cruz and Australian Defense Attaché Col. Paul Robert Barta, who represented Australian Ambassador to Manila Hae Kyong Yu, led the closing ceremony that capped the two-month-long bilateral drills held at the First Scout Ranger Regiment headquarters in Camp Pablo Tecson, San Miguel, Bulacan.
The "Exercise Kasangga" is this year's approved Philippine-Australian defense engagement. (PNA)