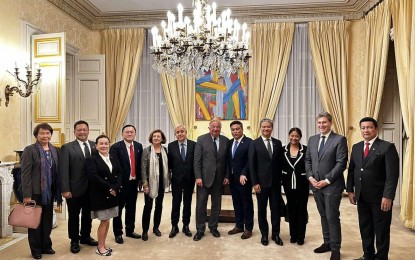 MANILA – Several Philippine senators are optimistic that the parliamentary visit to France will pave the way for a deeper relationship and explore opportunities for greater collaboration, particularly in renewable energy, climate change, economic development, and food security.
This, as the official Philippine Senate delegation concluded on Thursday their three-day trip after being invited to visit France as part of inter-parliamentary exchanges and on the occasion of the 75th anniversary of the establishment of Philippine-French diplomatic relations.
"It is my sincere desire that during this parliamentary visit, we will be able to identify areas of cooperation that will lead to even closer ties between our two nations," Senator Christopher Lawrence Go said in a statement.
Go, who chairs the Senate Committee on Health, said the visit also serves as an opportunity to personally thank the French government for its multi-million coronavirus disease 2019 (Covid-19) vaccine donation to the Philippines through the COVAX Facility.
He noted that the assistance provided a significant boost to the country's national vaccination program.
"I would like to express my gratitude to the French government for donating Covid-19 vaccines to the Philippines during the height of the pandemic," Go said.
"Filipinos will forever be grateful to you for this act of kindness, which went a long way toward ensuring the success of our vaccination program and the safety of our citizens against the threat of Covid-19," he added.
On Tuesday, Go and his fellow senators met with Guillaume Kasbarian, a member of the French National Assembly and chair of its Economic Affairs Committee, French Senator Daniel Gremillet, and members of the Atomic Energy Commission.
They also attended a meeting with the French-South East Asian Friendship Group, presided over by French Senators Mathieu Darnaud and Gisèle Jourda.
Go expressed optimism that the visit will lead to more exchanges in crafting legislation designed to safeguard the safety of Filipinos considering that the Philippines is one of the most vulnerable countries to the effects of climate change.
Also joining the parliamentary visit were Senate President Juan Miguel Zubiri, Senate President Pro Tempore Loren Legarda, Senate Majority Leader Joel Villanueva, Senate Deputy Majority Leader Joseph Victor Ejercito, and Senators Manuel Lapid, Maria Lourdes Binay, and Grace Poe.
Legarda had the opportunity to discuss matters relating to the environment and the blue economy during their meetings stressing that deliberating on the issues is timely and significant as these are connected to climate change which remains a top global concern.
"Our visit to France is a chance for the Philippines to convey our vision, plans, and involvement in addressing global challenges such as climate change. Our country fully recognizes France's steady allegiance to be a global leader in addressing the issue, and we are fully committed to supporting the Paris Agreement," she said.
The lawmaker urged the Philippine government to consider investing in blue carbon initiatives through the sustainable management of marine resources and marine-linked sectors which are also vital for climate change adaptation along the coasts.
Building a blue carbon economy, Legarda said, entails creating ocean sectors and businesses that are socially just, environmentally sustainable, and economically profitable.
She said the planting and rehabilitation of mangroves and seagrasses along the shorelines of vulnerable coastal communities would also serve as natural buffers against storm surges, flooding, erosion, and other climate hazards. Aside from these, the country's coastal resources characterized by its rich marine life have always been a reliable source of food, employment, energy, and even recreation for many Filipinos.
"We need to invest in blue carbon initiatives that will help protect our coral reefs, seagrass beds, lush mangrove forests, and other coastal and marine sources. Let us implement Philippine environmental laws in our efforts to bring back the bounty and restore the ecological integrity of our bodies of water," Legarda said.
"The risks are rapidly growing not only for those in coastal communities, as climate change drives rising sea levels, warmer oceans, and increasingly ferocious cyclones. We need to recalibrate our strategies on climate change adaptation, invest in blue carbon initiatives, and embrace the available solutions that nature presents to us," she added.
Recently, Legarda has secured the commitment of the Department of Foreign Affairs and the Department of Environment and Natural Resources in acceding to the agreement. (PNA)