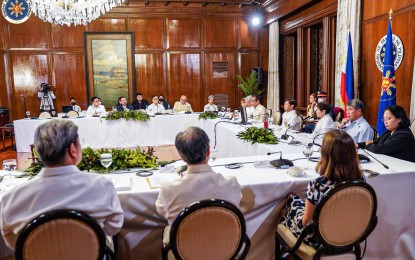 MANILA – President Ferdinand R. Marcos is calling on government financial institutions and private banks to assist government efforts to address the country's housing backlog of more than 6.5 million.
Marcos made this call in his meeting with Department of Human Settlements and Urban Development (DHSUD) Secretary Jose Acuzar, Bangko Sentral ng Pilipinas (BSP) Governor Felipe Medalla, and heads of the Bureau of Treasury, Pag-IBIG, Government Service Insurance System (GSIS), Philippine National Bank (PNB) and Land Bank of the Philippines on Wednesday.
"I think we can, there should be sufficient incentives… [an] arrangement for the private banks to come in," Marcos said, citing the indispensable support of the private banking sector in his administration.
He said giving incentives to private entities would further encourage them to take part in the building and financing aspects to support the housing program.
Representatives from BDO, Metrobank, Union Bank, Ayala Corporation, and China Bank, likewise, expressed their support for the housing program and committed to help in the crafting of a financing system to carry it out.
Acuzar, for his part, said his department looks at building 2 million houses a year or a total of 6 million houses by the end of Marcos' six-year term.
He said building in-city, mix-use residential hubs could cater to minimum-wage earners and middle-class families.
Acuzar said the program would need PHP36 billion a year for the next six years in cooperation with private lending institutions.
Rather than just addressing the housing backlog, he said the program will also tap economic pump-priming potential of the housing industry.
To date, Acuzar said the DHSUD has already identified potential areas for the development of settlements and townships.
Marcos met with Housing sector' stakeholders following the World Bank's turnover of the Framework for Resilient Housing and Shelter Programs to the DHSUD, according to the Office of the President.
The framework, it said, intends to direct the coordination and identification of housing strategies and programs of national government agencies, local government units and government partners in all phases of disaster management. (PNA)