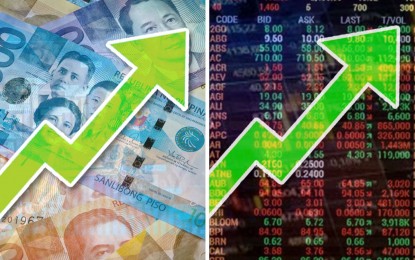 MANILA – Risk-on sentiments sustained the rise of the local bourse's main index on Thursday while the peso followed and improved against the US dollar.
The Philippine Stock Exchange index (PSEi) gained by 1.78 percent, or 109.05 points, to 6,230.58 points.
All Shares trailed with a jump of 1.21 percent or 39.11 points, to 3,282.38 points.
Most of the sectoral indices also gained during the day – Holding Firms, 2.46 percent; Industrial, 2.22 percent; Services, 1.98 percent; Financials, 1.78 percent; and Mining and Oil, 0.06 percent.
Only the Property index finished in the negative territory after it fell 0.74 percent.
Volume reached 629.95 million shares amounting to PHP5.64 billion.
Advancers led decliners at 123 to 55 while 44 shares were unchanged.
Luis Limlingan, Regina Capital Development Corp. head of sales, said local shares "continued to challenge resistance levels with the index finally reaching the 6,200 level with one more trading day in October tomorrow (Friday)."
"Traders looked outside of the US as rocky trading mixed and disappointing 3Q (third quarter) reports from Alphabet and Microsoft, and assessed what that means for future Fed (Federal Reserve) rate hikes and economic growth," he said.
Limlingan said investors are also on a wait-and-see stance for the release of the US' third-quarter output.
He also cited the rise in global oil prices "bolstered by record US crude exports and as the nation's refiners operated at higher-than-usual levels for this time of the year."
Limlingan said Brent crude futures rose by 2.3 percent to USD95.69 a barrel and the West Texas Intermediate by 3 percent to USD87.91 per barrel.
Meanwhile, the local currency further strengthened against the greenback after ending the day at 58.22 from Wednesday's close of 58.43.
It opened the day at 58.25, way better than its 58.65 start in the previous session.
It traded between 58.455 and 58.09, resulting in an average of 58.288.
Volume rose to USD1.08 billion from USD845.5 million a day ago.
Rizal Commercial Banking Corp. chief economist Michael Ricafort traced the peso's appreciation to the continued correction of the US dollar, which weakened to its lowest in more than a month now "amid improved global market risk appetite."
He said gains in global and local stock markets also benefited the local currency.
Higher inflows of remittances ahead of the long weekend holiday, along with signals from local monetary authorities regarding further hikes in the central bank's key policy rates by as much as 75 basis points during their rate-setting meeting on November 17, also benefited the peso, he added.
The local currency is expected to trade between 58.00 and 58.30 to the greenback on Friday. (PNA)