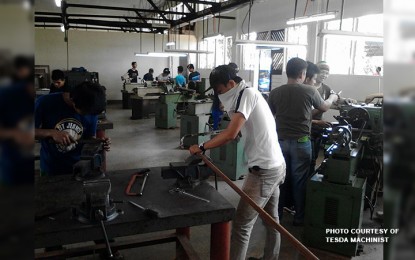 MANILA – A House of Representatives panel on Thursday approved in principle a measure seeking the institutionalization of free technical and vocational educational training for all out-of-school youths (OSYs) in the country via the Technical Education and Skills Development Authority (TESDA).
During a hearing, the House Committee on Higher and Technical Education, chaired by Baguio City Rep. Mark Go, approved "in principle" House Bill 3621, or the proposed "Out-of-School Youth Skills Education Act," authored by Sultan Kudarat Rep. Horacio Suansing and Nueva Ecija Rep. Mikaela Angela Suansing.
Suansing said the measure aims to promote an alternative path to productive employment, as well as short and long-term income security for younger members of society.
The bill ensures that OSYs will be granted access to work-based learning, entrepreneurship and livelihood opportunities relevant to the demands of the local labor market, and current and future economic security for themselves and their families.
"It endeavors to do so not only to prevent our indigent OSYs from falling further into the trap of poverty, but more so to provide a gateway through which they may acquire employment, income security, and subsequently, that they may inevitably obtain economic security for themselves and their families," the authors said in the bill's explanatory note.
Under the bill, TESDA shall provide technical and vocational education to the out-of-school youth free of charge, particularly courses related to in-demand jobs in the local market.
TESDA shall also provide materials, instruments, and tools that the OSYs may need while enrolled in a technical or vocational course, and financial support to cover transportation and other related costs for the duration of the training.
An Out-of-School Youth Skills Training Advisory Council shall be created in every municipality, component city, independent component city, and highly-urbanized city in the Philippines.
The Department of Labor and Employment, in coordination with TESDA and the local government units, shall ensure decent work standards for OSYs who have graduated from technical-vocational education and training (TVET) courses.
The panel also approved House Bill 4127 or the proposed "Philippine Academic Regalia Act", authored by Northern Samar Rep. Harris Christopher Ongchuan.
The bill prescribes the use of neo-ethnic Philippine textiles in the academic regalia of all state universities and colleges.
Academic regalia refers to the official garb worn by university officials, faculty, graduates, and awardees during graduation, commencement exercises, and other academic functions.
Ongchuan said the measure aims to utilize local resources especially from the far-flung areas to display and preserve the Filipino culture, as well as give back to the same communities that skillfully produce neo-ethnic textiles.
"The use of neo-ethnic Philippine textiles created by the local community craftsmen aims to showcase our culture and heritage in order to produce an academic regalia that is truly Filipino," Ongchuan said. (PNA)