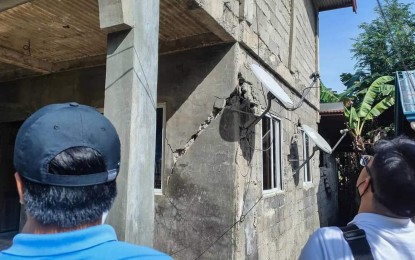 MANILA – The number of persons who were confirmed injured in the magnitude 6.4 earthquake that rocked Abra and other nearby Northern Luzon provinces has climbed to 84, the National Disaster Risk Reduction and Management Council (NDRRMC) said Friday.
The figure includes 12 from Ilocos Region and 72 from the Cordillera Administrative Region (CAR).
Still undergoing validation is a report of another injured person in the CAR.
There are still no reports of quake-related fatalities or missing persons as of this time.
The NDRRMC also said that 44,447 families or 147,378 individuals residing in 334 barangays in Ilocos Region, Cagayan Valley, and CAR were affected by the earthquake.
Of this number, only 20 families or 68 persons are being sheltered in three evacuation centers while the rest have either returned home or are being aided by relatives and friends.
Damaged houses were placed at 4,684 and these were reported in Ilocos Region, Cagayan Valley, and CAR.
"Partially damaged" houses were placed at 4,670 and "totally damaged" houses were placed at 14.
The infrastructure damage from the tremor was placed at PHP81.9 million in Ilocos Region, Cagayan Valley, and the CAR.
Meanwhile, Office of Civil Defense (OCD) administrator Undersecretary Raymundo Ferrer has expressed the agency's condolences to the families of the two soldiers of the 24th Infantry Battalion who were killed after being ambushed by New People's Army (NPA) insurgents at Barangay Gacab, Malibcong, Abra last Oct. 27.
These troops were part of a disaster response team mobilized to help Abra quake victims when attacked by the communist rebels.
"The OCD is terribly saddened by this attack of the Communist Terrorist Group on our soldiers during the humanitarian assistance and disaster response operations in Abra. Remember, our soldiers were not there as combatants but as relief workers, extending the aid of the government to disaster-stricken communities," Ferrer said in a message posted on the OCD Facebook page on Thursday night. (PNA)