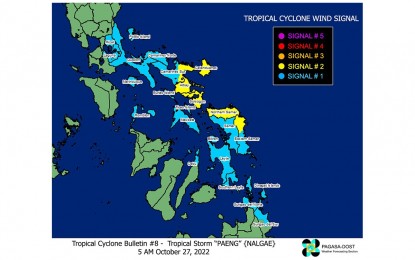 TACLOBAN CITY – Classes and work were suspended by some local government units in Eastern Visayas on Friday as Tropical Storm Paeng dumped heavy rains.
In Tacloban, Mayor Alfred Romualdez issued an executive order suspending work and classes on all levels as rainwater flooded low-lying areas in the city.
Suspension of classes in private and public schools was also issued by Northern Samar Governor Edwin Ongchuan for the entire province.
In Biliran province, the towns of Naval, Culaba, Kawayan, Maripipi, and Caibiran also suspended classes on all levels.
Work in both public and private sectors was also suspended in Naval town.
In Eastern Samar, Mayor Roland Boie Evardone also announced the suspension of work in the government and classes on all levels.
Guiuan town Mayor Annaliza Kwan also issued the same executive order.
In Samar province, class suspension was declared by the city governments of Catbalogan and Calbayog, as well as the towns of Gandara, Tarangnan, Calbiga, Daram, Hinabangan, Villareal, Basey, Daram, and Paranas.
In Leyte province, suspension of the class was issued in the towns of Palo, Tanauan, Jaro, Matag-ob, Sta. Fe, and Carigara.
Coast Guard Northern Samar also issued a notice to mariners canceling all sea trips. The province has two ports that serve as the exit point of the region to Luzon.
Small sea vessels are prohibited from venturing into the sea in all parts of the region due to gale warnings.
The state weather bureau has placed the entire Northern Samar province and some parts of Eastern Samar under Storm Warning Signal No. 2 while the southern portion of Eastern Samar, Leyte, Southern Leyte, and Biliran province were under storm signal No. 1.
For fear of landslides, the Department of Public and Highways (DPWH) in Eastern Samar has closed a road section in Taft town, along a major highway in the province leading to Samar.
"Motorists going in and out of the province are advised to use the alternative route at junction Buenavista- Lawaan-Marabut Road. Maintenance personnel continues the monitoring of road conditions in the province due to the tropical storm," the DPWH said in its advisory.
The tropical storm may trigger flooding in major rivers in the Eastern Visayas region, the Philippine Atmospheric, Geophysical and Astronomical Services Administration (PAGASA) warned.
In an advisory PAGASA identified several rivers in six provinces that would likely be affected by the downpour -- Sangputan, Palo, Solano, Daguitan, Marabong, Cadacan, Bongquirogon, Salug, Pagbanagaran, Pagsangahan, and Binahaan in Leyte; and Catarman, Bugko, Pambujan, Catubig, Palapag, Mano, and Gamay in Northern Samar.
Other rivers include the Oras, Dolores, Ulot, Taft, Borongan, Suribao, Llorente, Balangiga, and Sulat in Eastern Samar; Basey, Silaga, Calbiga, and Jibatan in Samar; Bisay, Himbangan, and Pandan in Southern Leyte; and all river systems in Biliran.
People living in low-lying areas near these river systems have been advised to stay alert for possible flash floods.
Those residing near mountain slopes have been told to watch out for signs of landslides.
In its 11 a.m. forecast, PAGASA said all three provinces in Samar Island are now under signal No. 2 while Leyte, Southern Leyte, and Biliran are under signal No. 1.
The center of Paeng was estimated based on all available data at 220 km. east-northeast of Borongan City, Eastern Samar. It has maximum sustained winds of 75 kph near the center and gustiness of up to 90 kph. (PNA)