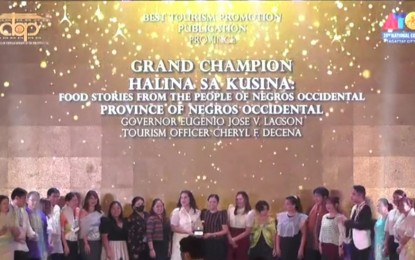 BACOLOD CITY – The province of Negros Occidental and its two cities received top recognition in this year's Pearl Awards held during the 23rd National Convention of the Association of Tourism Officers of the Philippines (ATOP) at the Taal Vista Hotel in Tagaytay City on Thursday night.
In a statement, Sagay City Councilor Arthur Christopher Maranon underscored the northern Negros city's efforts in giving importance to sustainable tourism development.
"We launched community-based eco-tourism enterprises to afford our community inclusive economic opportunities," he added.
Sipalay City tourism officer Jerick Lacson said they are humbled by the recognition for the "Safe and Sustainable Sipalay Tourism Recovery Campaign".
"This is part of the continuing effort and commitment of the city government led by Mayor Maria Gina Lizares to assist the local tourism industry in recovering from the impacts of the Covid-19 pandemic and Typhoon Odette," he added.
Sipalay, known as the "Jewel of the Sugar Island" for its beautiful beaches and dive sites, is the top tourist destination in Negros Occidental.
The Pearl Awards, presented by the Department of Tourism and ATOP, is the highest recognition program for the best tourism practices of local government units in the country.
Awarded grand champions were Negros Occidental for Best Tourism Promotion Publication; Sipalay City, for Best Tourism Month Celebration; and Sagay City, for the Sagay Marine Reserve First Eco-Tourism Loop Community-Based Enterprises.
Negros Occidental was recognized for the book "Halin sa Kusina: Food Stories from the People of Negros Occidental".
For Best Tourism Gifts or Souvenirs, Sipalay City was first runner-up in the Food Category for its "Kasing-Kasing" souvenir bags and second runner-up in the Non-Food Category for its "Paglaum" wood token.
Sagay City was first runner-up as well for Best in Tourism Brochure, and second runner-up for Best Program for Culture and the Arts for its Syano Artlink and Arts Month Celebration.
For the Best Tourism Event-Festival Category (Nature, Worship, Myths and Legend), San Carlos City was first runner-up for its Pinta Flores Festival while Silay City, second runner-up for its Legend of Kansilay: A Festival on Animism. (PNA)