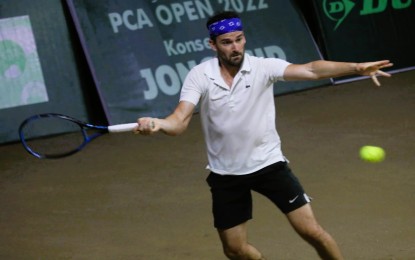 MANILA – Guillermo Olaso of Spain pulled off a stunning 7-5, 6-2 victory over second seed Jeson Patrombon on Friday to reach the men's singles final of the 39th Philippine Columbian Association (PCA) Open Tennis Championships at the PCA indoor shell court in Plaza Dilao, Paco, Manila.
Olaso, who retired from professional tennis in 2018, will face top seed Johnny Arcilla, who defeated fourth seed Elbert Anasta, 7-6 (3), 6-1, in the semifinal round.
"I didn't expect to win," said the unseeded Spanish from the port city of Bilbao after his match against Patrombon, the 2018 champion.
When asked about his chance in the best-of-five title duel with nine-time champion Arcilla on Sunday, the former world No. 167 said, "It's a long match. I just have to be patient."
Arcilla, who was born and raised in Butuan City, Agusan del Norte, has maintained his level of performance by joining tournaments, mostly in Visayas and Mindanao.
"I'm glad to be in the final again and hopefully, I will win again," said the 42-year-old Arcilla, who is eyeing a record 10th singles title in the prestigious tournament sanctioned by the Philippine Tennis Association (PHILTA).
"I was expecting a tough match against him (Anasta). He's a very good player and he really gave his best today," said Arcilla, who scored a 6-3, 6-0 victory over Anasta in the semifinal round of a tournament in Digos City, Davao del Sur early this year.
Anasta, a sergeant in the Philippine Army, was humble in defeat. He also acknowledged the skills of Arcilla, a member of the gold winning men's team in the SEA Games in 2005 and 2007.
"I did my best but it was not good enough. I was exhausted," said the 40-year-old Anasta. To reach the semis, he beat Alexa Acabo, 2-6, 6-4, 7-6, in the third round and Cebu-based Indian national Muthu Aashitiya Senthilkumar, 6-4, 7-6 (2), in the quarterfinal round.
"It's hard to win against Johnny. He's so talented," added the player from Negros Occidental.
Meanwhile, the women's singles final will be a repeat of the 2019 edition, the last time the tournament was held before the pandemic struck.
Top seed Marian Capadocia of San Jose de Buenavista town in Atique province will defend her title against second seed Janeila Rose Prulla of San Jose del Monte City in Bulacan.
The seven-time champion Capadocia, 27, beat No. 7 seed Alexa Joy Milliam, 6-2, 6-2, while the 17-year-old Prulla outclassed qualifier Alexiera Santos, 6-0, 6-2, in the semifinal round.
Prulla, a Grade 12 student at First City Providential College in San Jose del Monte City in Bulacan province, lost to Capadocia, 6-1, 6-0, in the 2019 final.
The PCA Open is offering cash prizes worth PHP200,000 to the men's singles champion and PHP100,000 to the women's singles winner. The doubles champions will receive PHP70,000 (men's) and PHP35,000 (women's). (PNA)