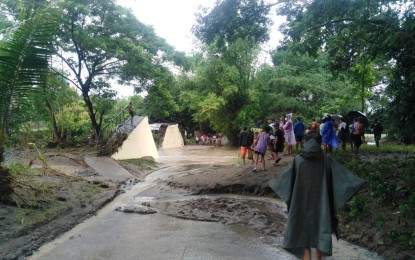 DUMAGUETE CITY – A number of towns in southern Negros Oriental were inundated early Friday as heavy rains brought about by Tropical Storm Paeng triggered flash floods, rendering some roads and bridges temporarily impassable.
Videos and photos of flash floods in parts of Siaton, Sta. Catalina, and Basay were posted by Netizens and circulated on Facebook around mid-morning following a continuous downpour in the preceding hours.
So far, no casualties were reported although damages to property and infrastructure were still being assessed, authorities said.
A bridge passing through barangays Fatima and San Pedro in Sta. Catalina was temporarily rendered impassable but was later opened to motorists.
Power outages were also reported in some areas, which slowed down the reporting of information from the ground.
Lt. Col. Roderick Salayo, commanding officer of the 11th Infantry Battalion of the Philippine Army headquartered in Siaton town told the Philippine News Agency that he sent troops to help in rescue and relief operations when necessary.
Salayo said at least 64 households or 274 individuals from Barangay Poblacion 3 of Siaton town were evacuated to the gymnasium, with personnel from the local Social Welfare and Development Office conducting profiling of the evacuees.
In Basay, seven families from Purok 4, Barangay Bal-os, were initially reported as affected by the flooding.
A footbridge in Barangay Mantuyop, Siaton was cut in half while a bridge in Barangay Giligaon of the same town was also reported to be partially damaged.
A report from the Negros Oriental Provincial Police Office (NOPPO) said that around 20 families in Barangay Fatima, Sta. Catalina were affected by the flooding while about 50 persons were rescued.
Provincial Police Director Col. Jonathan Pineda, who motored to the south in the afternoon, said he talked to a project engineer of an ongoing dike construction in Barangay Omanod, Siaton who said they lost two cement mixers that were carried downstream by flash floods.
The dike project, which was 90 percent complete, incurred damages worth an estimated PHP 40million.
Pineda said that the flash floods have already subsided, but he cautioned the people against letting their guard down.
The police director said he has given instructions to the police chiefs to undertake preventive evacuation before nightfall, considering that rescue operations would be harder during nighttime, especially if there are power outages. (PNA)