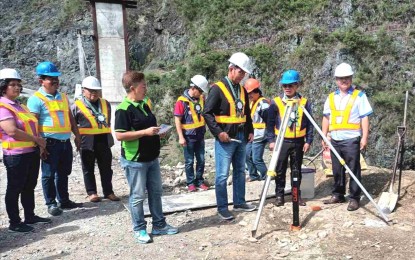 SAGADA, Mt. Province – The construction of the Betwagan bridge in Sadanga, Mountain Province will be a testament to the government's commitment to sustainable peace, the Office of the Presidential Adviser on the Peace Process (OPAPP) has said.
The "Bridge to Peace" is the biggest project under the "Payapa at Masaganang Pamayanan (PAMANA)" Program of the OPAPP in Sadanga that was among the infrastructure projects identified by the Cordillera Bodong Administration - Cordillera People's Liberation Army,
OPAPP Assistant Secretary for Reconciliation and Unity Andres Aguinaldo Jr. said.
"The bridge aims to help prevent possible situations of armed conflict caused by rebel groups, promote rural development in agrarian communities, enhance the productivity and raise the income of farmers and traders, and will boost the overall welfare of the community," Aguinaldo said during his keynote speech during the groundbreaking ceremony on Thursday.
He also said the groundbreaking activity "is a symbol of national development and sustainable peace, and a testament to cooperation and good governance."
The 60.35-meter bridge spanning the Chico River is worth PHP60 million, and will replace the old Betwagan bridge that was destroyed in 2015 during the onslaught of Typhoon Ineng.
It is expected to be completed on May 1, 2023.
According to Capt. Marnie Abellanida, information officer at the Police Regional Office -Cordillera, the "Bridge to Peace" would benefit about 4,000 residents of Barangay Anabel and Betwagan who will be connected to the downstream areas of Sadanga
"The reconstruction of the Betwagan Bridge will connect strategic and downstream areas of Sadanga through the efficient, safe, and reliable road network, and will also boost the local tourism by giving a better view of the river line area," Abellanida said in an interview Friday. (PNA)