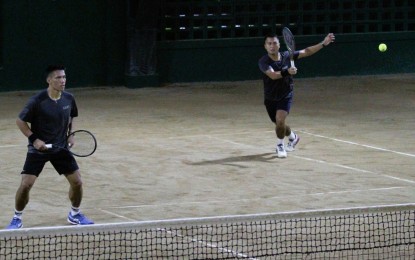 MANILA – Philippine Army's Elbert Anasta and Jeson Patrombon rallied past Jose Antonio Tria and Bryan Saarenas, 7-5, 3-6, 10-4, to capture the men's doubles title in the 39th Philippine Columbian Association (PCA) Open Tennis Championships at the PCA indoor shell court in Paco, Manila on Saturday.
It was the fifth doubles title this year for the pair who previously triumphed in Parañaque City, Cebu City, Digos City (Davao del Sur), and Mati City (Davao Oriental).
They first teamed up in 2019.
In the women's doubles final, second seeds Shaira Hope Rivera and Allyssa Mae Bornia beat siblings Kaye and Mica Ella Emana, 6-0, 6-4, to claim the PHP35,000 top purse.
"Our semifinal victory gave us the confidence we need in today's match. But we were also cautious because our opponents were playing well," said the 40-year-old Army sergeant Anasta, who finally succeeded on his third final appearance in the country's most prestigious tennis tournament.
Patrombon extended his winning streak, claiming his eighth doubles titles to go with seven singles titles.
Anasta and Patrombon will share the men's doubles champion cash prize worth PHP75,000.
Their next tournament will be the Asmara Open in Cebu City on November 16 to 19.
The Emana sisters toppled No. 1 seeds Marian Capadocia and Angeline Alcala, 7-5, 6-4, to reach the final.
Rivera and Bornia were nursing injuries and teamed up only one week before the tournament's registration deadline.
Rivera is still recovering from an anterior cruciate ligament surgery she had on her right knee last June while Bornia has a lingering pain on her inner right elbow.
"We didn't underestimate our opponents because they defeated the top seeds," Rivera said.
"We fought bravely to win the title," added Bornia, a varsity player of National University.
Rivera and Bornia took the doubles bronze medal at the 2018 Asean School Games in Singapore.
Meanwhile, top seeds Johnny Arcilla and Marian Capadocia will try to retain their titles in the men's and women's singles finals, respectively, on Sunday.
Arcilla is eyeing a record 10th title against unseeded Guillermo Olaso of Spain when they meet at 1 p.m.
Arcilla outplayed fourth seed Anasta, 7-6 (3), 6-1, while Olaso eliminated second seed Patrombon, 7-5, 6-2, in the semifinal round.
The women's singles final set at 10 a.m. will be a repeat of the 2019 showdown between Capadocia, 27, and Janeila Rose Prulla, 17.
Capadocia won that match, 6-1, 6-0, to pocket her seventh title.
Both are members of the team that bagged the bronze medal at the 2022 Vietnam Southeast Asian Games.
The PCA Open, which is sanctioned by the Philippine Tennis Association, is offering cash prizes worth PHP200,000 to the men's singles champion and PHP100,000 to the women's singles winner. (PNA)