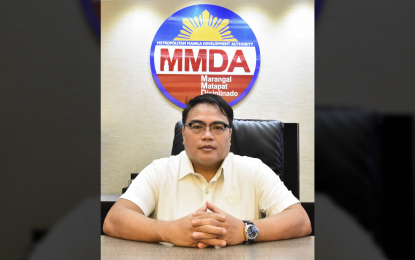 MANILA – Lawyer Romando Artes has returned as acting head of the Metropolitan Manila Development Authority (MMDA), Malacañang announced on Saturday.
Undersecretary Cheloy Garafil, Officer-in-Charge of the Office of the Press Secretary, confirmed to Palace reporters that President Ferdinand R. Marcos Jr. has named Artes as acting MMDA general manager.
Malacañang has yet to release a copy of Artes' appointment papers. He will replace Carlo Dimayuga III.
Artes was also tapped to lead the MMDA from March 1 to June 30, the day Marcos officially assumed office.
A certified public accountant, Artes served as MMDA Assistant General Manager (AGM) for finance and administration in May 2017 and later as the General Manager in November 2021.
As MMDA AGM for finance and administration, Artes managed budget and finances.
Under his leadership as AGM, the Commission on Audit awarded an "unqualified opinion" to the MMDA in 2019 and 2021.
An unqualified opinion means financial statements are prepared in all material respects and in accordance with the applicable financial reporting framework.
Artes led the MMDA Covid-19 committee which inoculated almost all employees and their immediate families.
Prior to his stint in the MMDA, he was an accountant and lawyer in the City of Biñan and a consultant in Santa Rosa, both in Laguna province.
He also served as political and legislative officer in the Senate and consultant in the House of Representatives.
Artes graduated with a degree of Bachelor of Science in Commerce major in Accountancy in 1993 and obtained his Bachelor of Laws in 1998 from San Beda College.
He passed the bar examinations also in 1998 and started his career as a lawyer with the Cayetano Sebastian Dado & Cruz Law Office until 2000.
He later served as a partner in the So Artes & Partners Law Offices in 2017 but took a leave of absence when he started his MMDA stint. (PNA)