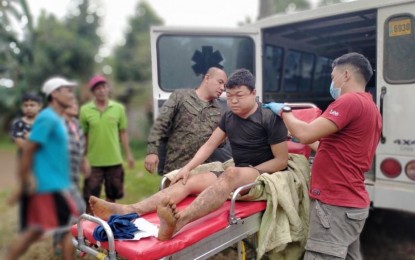 CAGAYAN DE ORO CITY – Troops of the Army's 58th Infantry Battalion (58IB) of the 4th Infantry Division rescued a communist rebel, who was left to die in Gingoog City, Misamis Oriental.
In a report on Saturday, the 58IB identified the combatant as Jerry Bilohan, a member of the dismantled Guerilla Front Huawei of the New People's Army (NPA).
A resident of Barangay Pigsalohan reported to the 58IB troops that Bilohan, who was wounded, was found lying along the banks of the Antayo River.
Bilohan claimed that following the pursuit operations by the 58IB, he was left behind by his fleeing comrades who gave him PHP3,000.
The series of pursuit operations by the 58IB was part of the intensive campaign against the remaining NPA forces in Misamis Oriental.
Two NPA rebels were killed in a previous encounter.
Lt. Col. Christian Uy, 58IB commander, said residents cooperate with the Army in anti-insurgency efforts.
"Again, I am calling the remaining members of communist groups to come down in peace, if you don't want the same fate to happen to you. Given only an amount of PHP3,000 in exchange for your life? Think about it," he said in a statement.
Bilohan was transported to the Misamis Oriental Provincial Hospital in Gingoog City.
"We will always value human lives and will always uphold human rights," Uy said. (PNA)