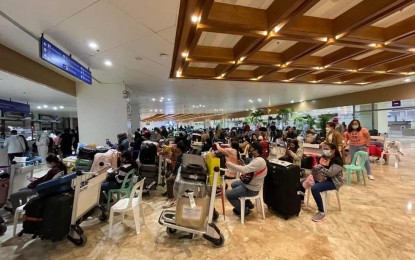 MANILA – The Bureau of Immigration (BI) remains in full force for the influx of passengers who are traveling in and out of the country during the long weekend commemorating All Souls' Day.
BI Commissioner Norman Tansingco said their frontline personnel remain on heightened alert and assured that they have enough manpower to cater to the needs of the traveling public despite the onslaught of severe Tropical Storm Paeng.
"Our officers remain in full force to avoid service interruptions during this long Undas weekend. This is so our border security is not compromised amid passenger influx," Tansingco said.
He said additional personnel have been assigned at the airports, and a rapid response team is in place to ensure that all counters at the ports are manned.
Passengers were affected by Paeng, which resulted in the cancellation of several domestic and international flights.
"Despite the adverse weather, our immigration officers remain on duty to serve the traveling public," Tansingco said.
"Many of them brave strong rains and floods just to be able to report for duty and perform our mandate," he said.
Tansingco acknowledged the service of the BI's frontline personnel who still render services during weekends and holidays.
"We remain true to our duty as public servants and will ensure that we continue providing quality service," he said. (PR)