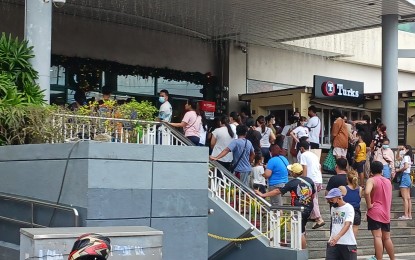 MANILA – The Department of Energy (DOE) said three power generation plants were shut down on Saturday due to Tropical Storm Paeng, including three units of Bacman geothermal power plant, Quezon Power Philippines Ltd.'s (QPPL) coal-fired power plant, and two units of TeaM Energy Therma Luzon's Pagbilao coal-fired power plant.
Bacman Units 1 and 2 are operational again while Unit 3 was put on house load, or when a small part of the rated capacity is generated to power only the auxiliary loads of the plant, according to the DOE on Sunday.
QPPL's power plant was likewise disconnected from the grid on Saturday afternoon due to the malfunction of its feedwater control valve during the onslaught of Paeng.
It is expected to be online by 4 p.m. Sunday.
The 382-megawatt (MW) Unit 1 of Pagbilao coal-fired power plant was synchronized to the grid before Sunday noon.
The 420-MW Unit 2, on the other hand, is estimated to return to service on Monday.
Report from the National Grid Corporation of the Philippines also showed that 10 69 kilovolt (kV) and three 230 kV backbone transmission lines remained unavailable as of 9 a.m.
The backbone transmission lines include the Cabanatuan-San Luis 69kV Line, Cabanatuan-Fatima 69kV Line, and Labrador-Bolinao 69kV Line in North Luzon which are affecting customers in Aurora, Nueva Ecija, and Pangasinan; Gumaca-Lopez-Tagkawayan 69kV Line, Pitogo-Mulanay 69kV Line, Batangas-Bolbok-Bauan 69kV Line, Bay-Calamba 69kV Line, Famy-Comon 69kV Line, Calaca-Nasugbu 69kV Line, and Sorsogon-Bulan 69kV Line in South Luzon, affecting customers in franchise areas of Manila Electric Company (Meralco) in Batangas and Laguna, Batangas Electric Cooperatives I and II, Quezon Electric Cooperatives I and II, and Sorsogon Electric Cooperatives I and II.
The three 230 kV backbone transmission lines that were still down are the San Juan-Calauan Line 1, Tayabas-Naga Line 2, and Tayabas-Pagbilao Line 1.
DOE reported that 16 69 kV lines were energized as of 9 a.m.
"[A]s of 10 a.m. on 30 October 2022, out of 96 ECs (electric cooperatives), 38 ECs are in normal operation, 32 are in partial power interruption, 10 total power interruption, and 16 ECs without submission," the DOE advisory read.
About 68 percent or 804 out of 1,174 municipalities that were affected by Paeng have been fully energized.
Meanwhile, Meralco said its customers that experienced power interruptions reached 4,058,222, the highest number of affected customers due to weather disturbances this year.
"Of the total, 504,234 customers are still affected. Majority of them are in Laguna and Cavite, and the rest are in parts of Batangas, Metro Manila, Rizal, Bulacan, and Quezon," Meralco added. (PNA)