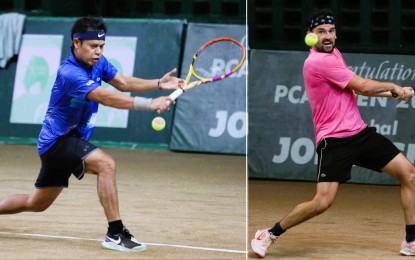 MANILA – Top seed Johnny Arcilla defended his men's singles title with a hard-fought 7-5, 1-6, 6-1, 3-6, 6-4 win over Guillermo Olaso of Spain in the 39th Philippine Columbian Association (PCA) Open Tennis Championships at the PCA indoor shell court in Paco, Manila on Sunday.
It was the second consecutive and 10th overall singles title for Arcilla, who first lifted the champion's trophy in 2001.
His other victories were from 2006 to 2009, 2011 to 2013, and 2019 when the tournament was last held before pandemic restrictions canceled the event in the last two years.
"It was a great match. The crowd support was a big boost to my morale," said the 42-year-old Arcilla, who took home PHP200,000.
"I'd like to thank my doubles partner Ronard Joven, who is also my hitting partner, for helping me prepare for this final match," he added.
Olaso, a former World No. 167, held his serve at 4-5 in the deciding fifth set but Arcilla played steadier in the next game to seal the victory.
"He's a very good competitor," said the 32-year-old from the port city of Bilbao. "You have to be fit to play in a best-of-match like this."
Olaso, who maintains a tennis academy in Singapore, advanced to the championship round after ousting second seed and 2018 champion Jeson Patrombon, 7-5, 6-2, in the semifinal.
Meanwhile, second seed Jenaila Rose Prulla dethroned top seed Marian Capadocia, 6-3, 7-6(3), to pocket her first title.
The 17-year-old from the City of San Jose del Monte in Bulacan foiled Capadocia's bid for a record eighth title in the Philippine Tennis Association-sanctioned tournament.
"I was hopeful but not expecting too much. I was thinking of what happened in our final meeting in 2019," said Prulla, referring to her 1-6, 0-6 defeat in their previous finals duel.
"Winning the first set made me confident. I even told myself that even if I lose the match, at least, I was able to win a set," added the graduating senior high school studet of First City Providential College.
Capadocia was ahead 6-5 in the second set but errors in the next game allowed Prulla to force the tiebreaker.
In the tiebreak set, Capadocia took a 3-1 lead before Prulla rallied to grab the upper hand at 4-3 when Capadocia's forehand shot went into the net.
Prulla made it 5-3 after Capadocia received a point penalty from the chair umpire for delaying the match when she experienced leg cramps.
Capadocia missed her next shot and Prulla hit a forehand winner to wrap up the match and take the champion's purse worth PHP100,000.
Capadocia and Prulla are members of the national team which took the bronze medal at the Vietnam Southeast Asian Games in May. (PNA)