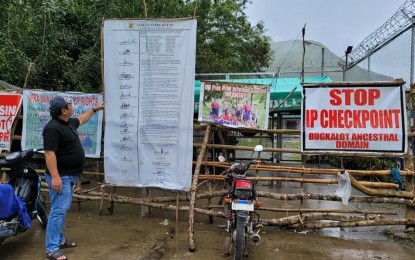 MANILA – The Bugkalot tribe in Nueva Vizcaya has relented to the request of the National Irrigation Administration (NIA) to check on the integrity of the Casecnan Dam.
In a statement issued on Monday, NIA Administrator Benny Antiporda said their efforts to arrive at a "win-win" situation with the Bugkalot tribe are finally paying off.
Antiporda reported during a press briefing on Saturday that a NIA team has been able to inspect the dam.
"This is to ensure the dam's integrity for public safety and unhampered irrigation service delivery, especially with the ongoing calamity," Antiporda said, referring to tropical cyclone Paeng over the weekend.
He said the Bugkalot tribe is asserting its rights over the operation of the Casecnan Multi-Purpose Irrigation and Power Project (CMIPP) that is situated within its ancestral domain.
On October 18, Antiporda initiated a dialogue among the Bugkalot Ancestral Domain Environmental Management Council, Power Sector Assets and Liabilities Management Corporation (PSALM), and other concerned government agencies.
It was the first time that the tribe agreed to discuss the issue, according to Antiporda.
He assured the tribe that they will receive whatever is meant for them under the law and asked them to meet the government "halfway".
The Bugkalot tribe was assured of a 1.5 percent net income share from CMIPP as part of the PSALM's corporate social responsibility, inclusion of road maintenance, and provision of forest guards, among others in the memorandum of agreement.
He added that the Department of National Defense helped NIA and PSALM convince Bugkalot chieftain Daniel Pasigian to cooperate with the national government.
"Based on the conversation between their chieftain and the government, they will cooperate and let our people enter the said area. Dahil hindi nga po ito name-maintain dahil mayron nga pong standoff doon at nakabarikada ang ating mga Bugkalot IPs [Indigenous Peoples) doon (It hasn't been maintained due to the standoff there and the barricade set up by the Bugkalot IPs )," Antiporda said.
An intake weir of the dam in Barangay Pelaway in Alfonso Castañeda town was damaged during the onslaught of Super Typhoon Karding in September.
Lt. Col. Gil Ileto, commanding officer of the Philippine Army's 84th Infantry Battalion under the 7th Infantry Division based in San Jose City, asked Nueva Ecija Governor Carlos Padilla for help in checking on the dam, to no avail.
Ileto earlier claimed that maintenance technicians of South Korean firm Soosan ENS Co. Ltd, a CMIPP contractor, were blocked by barricading protesters of the Bugkalot tribe. (PNA)