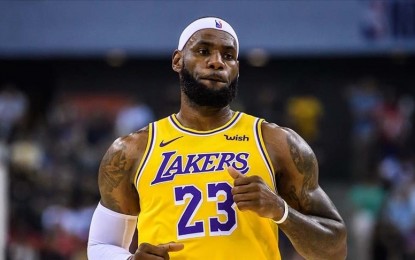 ANKARA – US basketball superstars LeBron James and Anthony Davis combined efforts to guide the Los Angeles Lakers to their first win of the 2022-23 NBA season on Sunday.
LeBron scored 26 points and Davis racked up 23 as the Lakers beat the Denver Nuggets 121-110 at Los Angeles' Crypto.com Arena.
Davis also grabbed 15 rebounds.
The Lakers are now ranked 14th in the Western Conference, having 1-5 win/loss record.
Other Lakers members Lonnie Walker IV and Russell Westbrook added 18 points each.
The Lakers led the game 55-51 before the halftime break. Denver had a 10-point lead in the first quarter, but then the Lakers came back.
Nuggets' All-Star center Nikola Jokic tallied 23 points and 14 rebounds, leading his team.
Denver point guard Jamal Murray scored 21 points, and Aaron Gordon added 18 for the visitors.
This season, the Nuggets won four games but lost three others to come eighth in the Western Conference standings led by the Portland Trail Blazers with 5-1.
Before the Nuggets game, the Lakers retired George Mikan's No. 99 jersey to honor their legend.
Mikan, who was a five-time NBA champion with the Minneapolis Lakers, died in 2005. He was 80.
The Lakers relocated to Los Angeles in 1960.
Doncic scores 44 points
Slovenian superstar Luka Doncic scored his season-high of 44 points as his team Dallas Mavericks beat the Orlando Magic 114-105 at home.
Doncic scored 30 of his 44 points in the first half at the American Airlines Center, Dallas.
Paolo Banchero, a Magic rookie, scored 18 points to lead his team.
Dallas are 10th in the West standings with 3-3.
The Magic were handed their sixth loss to the bottom of the Eastern Conference.
Other results:
Los Angeles Clippers - New Orleans Pelicans: 91-112
Boston Celtics - Washington Wizards: 112-94
Detroit Pistons - Golden State Warriors: 128-114
Cleveland Cavaliers - New York Knicks: 121-108
San Antonio Spurs - Minnesota Timberwolves: 107-98
Phoenix Suns - Houston Rockets: 124-109 (Anadolu)