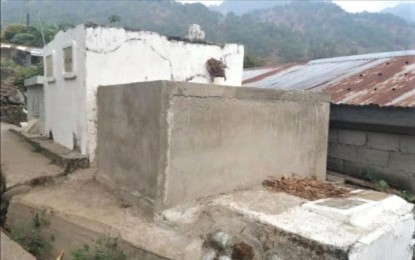 BAGUIO CITY – For the indigenous peoples (IP) of the Cordillera Administrative Region, only animals and not human corpses are burned during wakes. But with the call of the times, residents are gradually being open to cremation and other modern burial practices.
"Some have adopted it, especially during the pandemic wherein bodies of patients who died due to Covid-19 or were found post-mortem to be positive for the virus be cremated or immediately buried," Jennifer Luna-Dinangan, manager of Beyond the Sunset Memorial Columbary Park said in an interview Monday.
Beyond the Sunset is the first crematorium that was established in Baguio City in 2004 serving clients in the city, Benguet, Cordillera provinces, Pangasinan and La Union.
"There are now many fellow IPs who opt for cremation even if there is the saying that only animals are burned," said Luna-Dinangan, also a member of an IP tribe in the Cordillera said in Ilocano
Many Cordillera tribes observe a different way of butchering animals that includes torching the animal to remove its hair before opening it and taking the liver for a native priest to "read" and interpret the size, form, appearance, and location of the bile.
Luna-Dinangan said cremation also allowed the families to bring the remains back to their hometown where they can put the remains in the final resting place of a relative.
"Marami ang nasa Baguio kasi nagta-trabaho lang at kailangan nilang iuwi sa bahay ang namatay kasi doon maililibing ang remains (Many are in Baguio for work and they need to bring home the remains of their dead relative for burial)," she said.
She said crowded cemeteries are another factor in relatives opting for cremation.
Luna-Diangan said in 10 deaths, about four would opt for cremation.
Veering from tradition
Aside from cremation being adopted, many families are now opting to bury their dead in cemeteries and memorial parks instead of a tomb in the backyard or within the house.
Marcel Tagel, an Ibaloi from Kabayan, Benguet, said they have bought cemetery lots for themselves in case their family opts to have them buried when they die.
She said it is a preparation for themselves that their families may or may not use for them.
"You don't know whether in the future our family will do the traditional for us or they will prefer to put us in a cemetery. We are just preparing because anyway we will all go there when our time comes," Tagel added.
She said they still have relatives who have prepared their tombs in the house's basement where they will be buried.
Lorna Tumilang, a Kankanaey from Buguias, Benguet said they have a family cemetery at the property left by their ancestors in Lubas, La Trinidad, Benguet but her grandfather asked to be buried right at the compound where their children's houses were built.
"Before he died, he said he wanted to be at the compound so that he can watch over his children and his grandchildren and at the same time, they will always see him," she said.
Besides his grandfather's tomb is a standby tomb he asked to be prepared for their grandmother.
"When we gather as a family, we are with them and he sees us when we are happy and when we are sad," Tumilang said. (PNA)