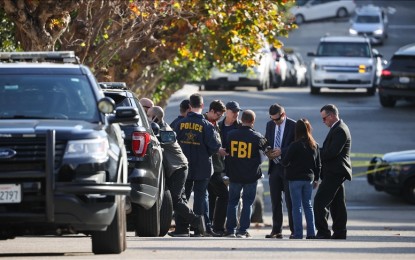 HOUSTON, United States – The man accused of plotting to abduct US House of Representatives Speaker Nancy Pelosi and striking her husband in the head with a hammer was charged with two federal counts on Monday.
David DePape, 42, was charged with attempted kidnapping and assault by the US Attorney's Office for the Northern District of California.
According to the criminal complaint, authorities said DePape "was prepared to detain and injure Speaker Pelosi when he entered the Pelosi residence in the early morning" last Friday at Pelosi's San Francisco home.
Police said DePape was carrying zip ties, tape, rope, and at least one hammer.
The complaint goes on to explain that when Paul Pelosi told DePape his wife "would not be home for several days," DePape "reiterated that he would wait."
"DePape also later explained that by breaking Nancy's kneecaps, she would then have to be wheeled into Congress, which would show other Members of Congress there were consequences to actions," the complaint read.
Police said when they told DePape to drop the hammer, "DePape allegedly gained control of the hammer and swung it striking (Paul) Pelosi in the head."
DePape faces up to 50 years in prison if convicted; 20 years for the attempted kidnapping charge and 30 years for the assault charge.
He also faces state charges which are expected to be handed down on Monday.
Paul Pelosi remained in the intensive care unit at a San Francisco hospital, according to reports. (Anadolu)