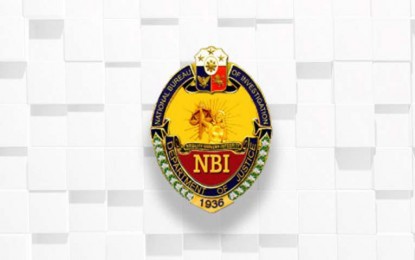 MANILA – Two men wanted for rape charges in Cavite have been arrested in Nueva Ecija by the National Bureau of Investigation (NBI) after their records were flagged when they applied for NBI clearance.
In a statement Wednesday, the NBI said Jose Bido Jr. and Vincent Emmanuel Gan were arrested by operatives of NBI-Cabanatuan District Office (NBI-CABDO) after they applied for NBI clearance. The NBI did not say the actual date of the arrest.
Bido was flagged as "wanted" for rape charge pending before the regional trial court (RTC) Branch 19 of Bacoor, Cavite while Gan was arrested when his records showed he was "charged/at large" also for rape before the RTC Branch 23, in Trece Martires, Cavite.
"Notably, the arrest of the two accused proves that NBI clearance is the most reliable clearance service in the country, the NBI being the national repository of all criminal records," the NBI said.
Meanwhile the NBI also announced the arrest of an alleged pimp last October 21 in Balayan, Batangas by operatives of NBI-Calabarzon, for offering women for sex.
Darrah Mae Grey was arrested in an entrapment which stemmed from an information received on a certain "Darrah Mae Grey" who was engaged in providing, offering, and transporting women, including minors, for sex to customers on Facebook.
The woman can be contacted through Facebook Messenger for "booking" and would be the one to haggle the fee and would personally escort women to the desired place for sex in exchange for around PHP2,500 in a resort in Balayan, Batangas.
Darrah was charged with violation of RA 9208 as amended by RA 10364 (Expanded Anti-Trafficking in Persons Act of 2012) in relation to RA 10175 (Cybercrime Prevention Act of 2012). Eleven women, one of whom is minor, were also rescued in the operation.
In Quezon City, the NBI announced the arrest of Anthony Quezon by the NBI-Cybercrime Division (NBI-CCD) in an entrapment following a complaint by his former lover who he met through the Bigo Live App.
In subsequent online chats while the man was in the United States, the two exchanged photos and videos of each other in compromising positions but the woman subsequently broke off the relationship after a woman who introduced herself as Quezon's wife contacted her .
Unwilling to break up the long-distance relationship, Quezon threatened the complainant that he will upload their intimate videos on porn sites, FB and other social media platforms.
Last month after Quezon arrived from the United States, he demanded that the complainant meet with him prompting her to file a complaint.
Quezon was presented for inquest proceedings before the Office of the City Prosecutor of Quezon City for violation of R.A. 9262 otherwise known as the Anti-Violence Against Women and their Children Act of 2004, Section 4 (a) of R.A. 9995 known as The Anti-Photo and Video Voyeurism Act of 2009, and Grave Coercion punishable under Article 286 of the Revised Penal Code, all in relation to R.A. 10175 or the Cybercrime Prevention Act of 2012. (PNA)