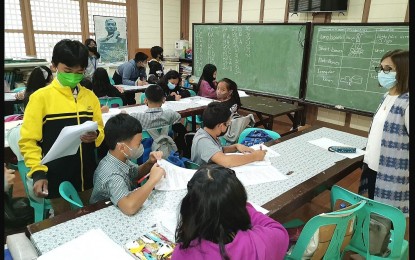 BAGUIO CITY – A total of 1,964 public and private schools in the Cordillera Administrative Region (CAR) are now implementing full face-to-face classes, an official said Wednesday.
Cyrille Gaye Miranda, chief of the Department of Education (DepEd)-CAR public affairs unit, said the number includes 1,832 public schools and 132 private schools.
The figure is out of a total of 2,076 schools in the region -- 1,844 public schools and 232 private schools.
Meanwhile, 12 public schools and 100 private schools have been allowed to continue the blended learning modality.
Miranda said the public schools that were not able to comply with the order on full in-person classes are those that incurred damage to classrooms and school buildings during the major earthquake in Luzon last July 27.
"The reported damage during the July earthquake was the same infrastructure damage recorded in the October earthquake," Miranda said in a private message.
The public schools that continue to implement blended learning modes are:
Benguet
-- Tuding Elementary School (Itogon town)
-- Line 10 Primary School (Itogon town)
-- Alejo Pacalso National High School (Itogon town)
-- Ampucao National High School (Itogon town)
-- Ambangeg National High School (Bokod town)
-- Benguet National High School Main (La Trinidad town)
-- Loo National High School (Buguias town)
-- Natubleng National High School (Buguias town)
Baguio City
-- Kias Elementary School
-- Rizal National High School
-- Roxas National High School
Abra
-- Abra National High School
"Except the 12, all other public schools in the region will administer full face-to-face classes due to the damage that resulted from the recent calamities," Miranda said.
The DepEd earlier allowed private schools to continue blended learning beyond Nov. 2.
In Abra, the damaged classrooms were augmented with classroom tents provided by local and international non-government organizations and associations, to prevent the disruption of classes and bring back the learners to school.
Meanwhile, Dr. Rowena Galpo, Baguio City Health Officer in a media interview on Wednesday called on residents to remain vigilant in safeguarding their health and safety in the face of the lingering presence of the coronavirus disease 2019 (Covid-19).
"Our health and safety against Covid-19 now lie largely on our hands as it is now up to us to discern whether or not we need to wear masks outdoors and even indoors," the doctor said.
She made the call amid the implementation of the DepEd's order to resume full face-to-face classes.
Baguio City has more or less 70,000 learners and the neighboring province Benguet has more or less 90,000. The whole region has about 375,000 learners from Kindergarten to Grade 12.
Galpo urged parents to always remind their children to be conscious of their safety and sanitize using soap and water when available or a hand sanitizer or alcohol.
She also urged the public to observe the basic health and safety protocols aside from getting vaccinated against Covid-19. (PNA)