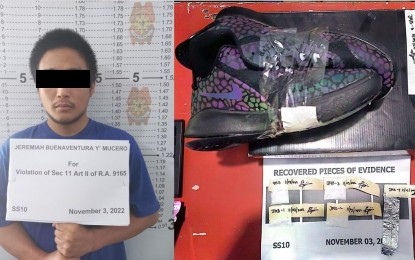 MANILA – About 23 grams of shabu concealed in a shoe sole have been intercepted by an alert officer at the Metro Manila District Jail Annex 2 in Camp Bagong Diwa.
The Southern Police District reported on Friday that the 24-year-old suspect, Jeremiah Neil Buenaventura, tried to sneak in the illegal drugs, valued at about PHP162,000.
There was no indicated recipient.
"A jail officer, while conducting the mandatory search on the said paabot (hand-in) item, discovered and recovered four heat-sealed transparent plastic sachets containing white crystalline substance suspected to be shabu," the report read.
The jail officer requested for assistance from Sub-Station 10 in Barangay Bagumbayan.
The pair of rubber shoes and shoe box were seized as additional evidence.
Complaints for violation of the Comprehensive Dangerous Drugs Act of 2002 will be filed against Buenaventura while the recovered pieces of evidence were turned over to forensics experts. (PNA)