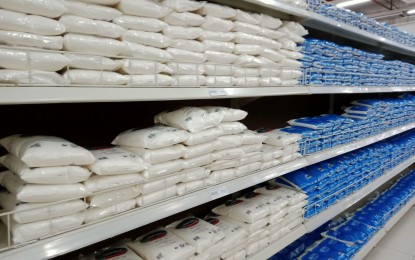 MANILA -- The chair of the House committee on ways and means on Friday said it is still within the government's power to lower the prices of sugar despite most price increases being beyond its control due to global conditions.
Albay Representative Joey Salceda made the statement in response to the October 2022 inflation report which shows the country's general price levels to be the highest in nearly 14 years with the inflation rate increasing to 7.7 percent in October.
"High corn, fuel, and electricity prices are primarily a matter of global conditions. But for sugar, because of our longstanding policy of misguided protectionism, we have it coming," Salceda said.
He warned that having high prices of sugar would "kill domestic jobs more than they help farmers", noting that some 66 percent of all sugar demand is as input to other Philippine industries, while only 34 percent is consumed in final form.
"The problem with high sugar prices isn't just that consumers are bearing the brunt of it. It's that Philippine industries consume more sugar than consumers do. And they're in trouble if we don't sort the situation out," he said.
He said the country's structural sugar issues is already costing jobs because they are inputs to other sectors and are affecting the prices of bread, soft drinks, alcoholic drinks, dairy products, and other processed foods.
He cited data from the 2018 240-sector input-output tables by the Philippine Statistics Authority showing that some 102.5 billion in sugar is consumed by other sectors as an intermediate input, while only 51.9 billion is used as a final good.
He also highlighted that out of all the goods in the October inflation report, sugar represents the highest year-on-year increase at 34 percent.
"That is a form of self-harm or self-sabotage when global prices have already stabilized at more or less their 50-year average of 17-18 cents per pound," he said.
He suggested that allowing industrial users to import sugar is the most immediate way to address some parts of food inflation.
"I've talked to farmer groups and they complain that their problem is input costs. High fertilizer and farm fuel costs are major issues. Among milling companies, energy costs are also the issue. I already have a proposal to allow industrial users to import another 400,000 MT (metric tons) of refined sugar," he said. "If we auction those slots off, we could be earning as much as 12 billion pesos, which we could provide to farmers and millers as direct subsidies."
He also urged the Department of Trade and Industry and the National Economic and Development Authority to apprise the government if there is a sugar shortage among industrial users and determine how much is the shortfall so that the administration can make a decision that works for both industry and farmers.
"Otherwise, industrial users are going to have to find a way to get their sugar, one way or another. They will either manufacture abroad, or smuggle sugar here. Either way, we'll see jobs killed," he said.
The National Economic and Development Authority (NEDA) attributed the uptrend in inflation to external pressures, such as the Russia-Ukraine war and the lockdowns in China that disrupted the global supply chain, and the lingering effects of recent typhoons including Karding that hit the country late September.
"Our immediate priority is to continue supporting the most vulnerable sectors of the economy, hence, the cash transfers and fuel discounts will continue. This will alleviate the effects of the sustained increase in commodity prices as a result of global headwinds as well as the recent typhoons which damaged our domestic production and disrupted food supply," said Socioeconomic Planning Secretary and NEDA Director General Arsenio Balisacan in a statement.
Balisacan added that part of the government's medium-term strategy is to invest in climate-smart agriculture technologies that will make the country's agriculture sector resilient to calamities, such as extreme weather conditions.
"It's high time that we boost support for the agriculture sector not only in post-disaster recovery but more importantly through preemptive measures. To sustain productivity and resilience, climate-adaptive agricultural technologies should be put in place and value chains strengthened. In addition, one of the priority legislative measures of the President is the creation of the Department of Water Resources that will oversee the use and supply of water, and mitigate the risks of water-induced disasters," he added.
The NEDA chief likewise assured the public that the government is closely monitoring the price increases and possible inflation pressures. (PNA)