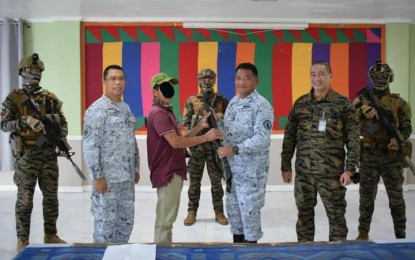 ZAMBOANGA CITY – Three Abu Sayyaf Group (ASG) bandits based in Basilan province and believed to have ties with bomb experts and foreign terrorists have surrendered to the Naval Forces Western Mindanao here, military officials said Saturday.
Lt. Senior Grade Chester Ross Cabaltera, NFWM information officer, said Bero Ankun, alias "Abu Bero"; Ridwan Jikiri, alias "Abu Paruk"; and Abdulgani Radjuli alias "Abu Gani" gave up on Friday.
The surrender was facilitated by NFWM'S Naval Task Force 61 Units composed of Navy Naval Special Operations Group, intelligence operatives, and Joint Task Force (JTF)-Basilan.
The trio turned over two M16 rifles, magazines, and ammunition to officials led by Rear Admiral Toribio Adaci Jr., NFWM commander.
In a statement, Cabaltera said Ankun, Jikiri, and Radjuli were followers of ASG sub-leaders Radzmil Jannatul, Pasil Bayali, and Isnilon Hapilon, respectively.
Jannatul, also known as Abu Khubayb, was killed in a gunfight with the military on March 25 in Barangay Baiwas, Sumisip, Basilan.
Hapilon died during a firefight with government troops on Oct. 16, 2017 in the Marawi siege. At the time, he was emir of all Islamic State forces in the Philippines.
Bayali remains scot-free and is being continuously tracked down by government troops.
Cabaltera said the three were involved in kidnappings and several encounters with government troops in Basilan, particularly in the municipalities of Sumisip, Tipo-Tipo, and Al-Barka.
The bandits underwent medical checkup at the Camp Navarro General Hospital prior to their turnover to JTF-Basilan for processing and possible inclusion in local government unit programs. (PNA)