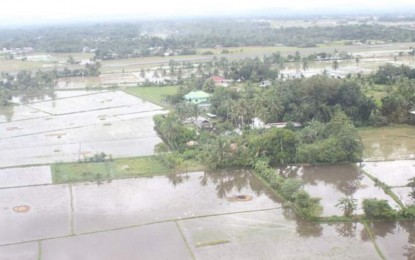 MANILA – The Department of Agriculture (DA) on Saturday reported that damage and losses due to Severe Tropical Storm Paeng now stood at PHP3.16 billion affecting 83,704 farmers and fishers.
The volume of production loss was recorded at 197,811 metric tons (MT) planted to 84,677 hectares of farmlands in the Cordillera Administrative Region (CAR), Cagayan Valley, Central Luzon, Calabarzon, Mimaropa, Bicol, Western Visayas, Eastern Visayas, Zamboanga Peninsula, Central Mindanao, and Soccsksargen regions.
Affected commodities include rice, corn, high-value crops, fisheries, livestock and poultry. Damage has also been incurred in agricultural infrastructures, machinery and equipment.
The DA has already distributed PHP1.74 billion worth of rice seeds, PHP11.57 million worth of corn seeds, and PHP20.01 million worth of assorted vegetable seeds to affected farmers.
It has also given PHP176,000 worth of animal heads, drugs and biologics for livestock and poultry; and fingerlings and assistance to affected fisherfolk from the Bureau of Fisheries and Aquatic Resources (BFAR).
The DA also allotted some PHP400 million for the Survival and Recovery (SURE) Loan Program of the Agricultural Credit Policy Council (ACPC) with loanable amount of up to PHP25,000 payable in three years at zero interest; and quick response fund (QRF) for the rehabilitation of affected areas.
Meanwhile, as the government continues to assess the damage to agriculture wrought by Paeng, local fish stakeholders assured that local fish supply remains stable.
"We want the government to know that our industry remains resilient regardless of the strong winds, rain, and flooding. Despite (STS) Paeng affecting many fish producers, it did not hinder our production. We can still supply the whole country without importing fish," said Engr. Mario Balazon, director of Taal Lake Aquaculture Alliance Incorporation (TLAAI), in a statement.
Jon Juico, president of the Philippine Tilapia Association, agreed with Balazon.
"We agree with the statement that Mario Balazon from TLAAI made. There is not much damage here in Pampanga. We are always prepared here in Minalin since we don't use nets. We use dikes, and we are affected more by dams releasing water, not by typhoons," he said.
"Last year, the prices for bangus and tilapia plummeted because of importation. Our local producers were forced to sell their fish for only PHP60-70, while the cost of production per fish was PHP90. It devastated the industry when the market was inundated by imports," he added.
Balazon said Filipino fishermen and the local aquaculture industry can supply the needs of Filipinos for fish despite the damage brought by Paeng. He said the loss in aquaculture in Talisay, Batangas due to the weather disturbance is estimated at PHP22 million.
"Approximately 200 tons of fish escaped the cages. In Calauan, Laguna, the supply of fingerlings was washed out. But we are confident that in three months we will be able to re-stock again and are rest assured that this will not affect the supply of tilapia," he said. (PNA)