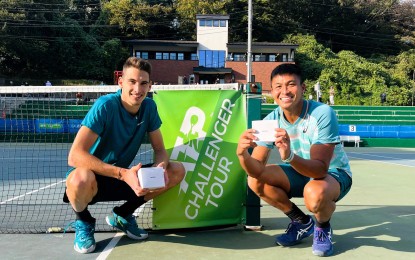 MANILA – Filipino-American Ruben Gonzales and Romanian Victor Vlad Cornea were crowned doubles champion at the Yokohama Keio Challenger in Japan on Saturday.
Gonzales and Cornea, the tournament third seeds, clinched the title after beating Japanese wild cards Tomoya Fujiwara and Masamichi Imamura, 7-5, 6-3, in the final match at the Keio University's Hiyoshi Campus Mimitani Tennis Court.
"It was a great week for us! We kind of decided to play together last minute so it was amazing to win the tournament," said the world No. 142 Gonzales in an online interview after the match. "This is my third title this year and fourth final".
"We were down match point in the first round, so awesome to go all the way and take the title," added Gonzales, who is based in Terre Haute City in Indiana.
"I will be playing three more weeks with my good friend Christopher Rungkat," said Gonzales, who is scheduled to join the Matsuyama International Open (Nov. 7-13), Kobe Challenger (Nov. 14-20), and Yokkaichi Challenger (Nov. 21-27).
Rungkat, who hails from Indonesia, is currently No. 184 in the world. He won the mixed doubles gold medal with Aldila Sutjiadi at the 2022 Vietnam SEA Games.
On their way to the final, Gonzales and the world No. 126 Cornea scored a 7-6 (5), 7-6 (2) win over Japan's Taisei Ichikawa and Yuki Mochizuki, who ousted No. 1 seeds Arjun Kadhe and Ramkumar Ramanathan of India in the quarterfinal round, 6-7 (5), 6-2, 12-10.
Fujiwara and Imamura, on the other hand, walked over Frederico Ferreira Silva of Portugal and Zdenek Kolar of Czech Republic in the semifinal round.
Silva and Kolar eliminated second seeds Andrew Harris and John Patrick Smith of Australia, 6-3, 4-6, 13-11, in the round of 16 to reach the quarterfinal where they rallied past Shinji Hazawa and Shintaro Mochizuki of Japan, 6-2, 2-6, 12-10.
Meanwhile, Filipino Francis Casey Alcantara and Vietnamese Nam Hoang Ly, the reigning SEA Games singles gold medalist, absorbed a 3-6, 2-6 loss to Fujiwara and Imamura in the round of 16.
"Our opponents played really well. We couldn't do much. On to the next one," said the world No. 289 Alcantara, who proceeded to Japan after playing one tournament in Indonesia.
Alcantara teamed up with Coleman Wong of Hong Kong in the first leg of the Medco Energi International Tennis Championships, losing to top seeds Thomas Fancutt and Brandon Walkin of Australia, 6-7 (2), 2-6 in their semifinal match at the Sultan Hotel outdoor hard court in Jakarta.
Alcantara, who was born and raised in Cagayan de Oro City, has three titles this year. He won in Egypt with Colin Sinclair of Northern Mariana Island last May and bagged two more in Vietnam, the first with Ly last June and the second with Pruchya Isaro of Thailand last month.
"The goal is to win matches here (Japan) and get more points so that I can play mostly challengers next year," said Alcantara, who will see action in the three tournaments Gonzales will be joining.
Alcantara broke into the world's Top 300 doubles rankings in early October. His career-best was No. 257 in 2018.
"I'm done after Japan. I'll be back next year," said the 30-year-old Alcantara, who won the men's doubles gold medal (2019) and silver medal (2022) with Jeson Patrombon.
Alcantara and Gonzales are expected to lead the Philippine campaign at the Cambodia SEA Games and Hangzhou Asian Games next year. They are members of the Davis Cup team.
Alcantara is the first Filipino junior Grand Slam champion, achieving the feat when he won the Australian Open doubles title with Cheng-Peng Hsieh of Chinese Taipei in 2009, the same year he reached his highest ranking of world No. 14. (PNA)