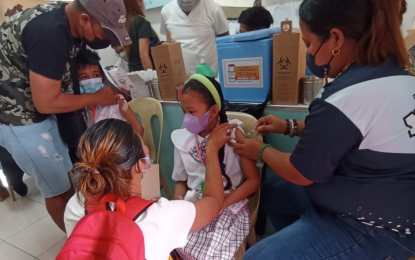 MANILA – As full face-to-face classes resumed after two years of hiatus due to Covid-19 pandemic, Taguig City government has vaccinated over 10,000 individuals through its School Tour: One-Stop Shop Bakuna for children aged 5 to 17 years old.
The vaccination program is part of Taguig's efforts to support the Department of Health's (DOH) "PinasLakas Immunization Campaign."
In a statement on Sunday, the Taguig local government said aside from primary doses, first and second boosters have also been given to children in 23 elementary and high schools through the school vaccination drive since Aug. 15, 2022.
"Teaching and non-teaching personnel of every school were among those who have received their Covid-19 vaccination," it added.
The city government is set to visit more schools to conduct Covid-19 vaccination for students and education frontliners to further ensure everyone's safety and encourage more people to get their booster shots once eligible.
"PinasLakas Immunization Campaign" is part of the DOH's nationwide campaign to vaccinate 90 percent of senior citizens and increase booster coverage of all eligible population to 50 percent by targeting individuals from various communities including schools, marketplaces, and transportation terminals.
Before the DOH "PinasLakas Immunization Campaign", Taguig had coordinated with the Department of Education – Division Office to expand and intensify the Covid-19 vaccination program for children in preparation for face-to-face classes.
All eligible residents and non-residents in the country can walk into Taguig vaccination hubs from Monday to Friday at Lakeshore Vaccine Information Center, Venice Grand Canal Mall, and Bonifacio High Street.
All barangay health centers also offer Covid-19 vaccination to the eligible population every Monday, Tuesday, or Friday.
As of Oct. 28, the city has administered a total of 2,124,944 jabs, including 327,066 who received their first booster and 39,739 with their second booster shots. (PNA)