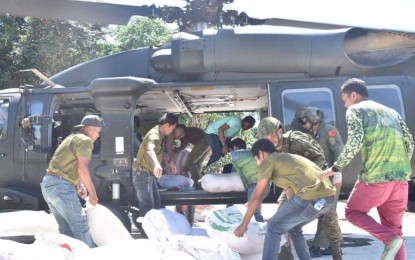 MANILA – Philippine Air Force (PAF) aircraft are playing a vital role in the ongoing humanitarian assistance and disaster relief (HADR) efforts for communities severely affected by Severe Tropical Storm Paeng which battered a large part of the country in late October.
PAF spokesperson Col. Ma. Consuelo Castillo, in a message to the Philippine News Agency over the weekend, said six different types of aircraft and helicopters were deployed for these HADR air operations.
The deployed aircraft include C-295 and F-27 medium transports, and the Bell 412, S-70i "Black Hawk", UH-IHs, and AW-109s helicopters.
"Mission performed (by these aircraft include) airlift/helilift of relief goods and personnel, search-and-rescue, aerial reconnaissance, rapid damage assessment and needs analysis," she added.
Castillo added that these aircraft flew 101.6 hours and conducted 106 sorties for these HADR missions.
PAF aircraft also airlifted 176 passengers including government officials, military and civilian responders, and evacuees from Oct. 30 to Nov. 4.
Meanwhile, transported cargoes consisted of 30 sacks of rice, 700 boxes of assorted relief goods, 3,621 boxes of family food packs from the Department of Social Welfare and Development, 2,047 food packs from the PAF Civil-Military Operations Group, 100 boxes of food packs, 100 solar lights, 9,000 water purifying tablets, 89 pails of hygiene kits,100 boxes of hygiene kits, 100 blankets, 100 boxes of "malong", 100 cadaver bags, 50 boxes of family kits, 237 boxes of bottled water, 78 filter/UV light (0.5 micron/ 0.1 micron), two chainsaws, 15 water purifiers, 20 solar panels, 12 folding beds, one trauma bag, one portable oxygen tank, one AED, and one backboard.
As this developed, the Western Command (Wescom) through its Joint Task Force Integrated Crisis and Response to Emergency (JTF ICARE) deployed the BRP Benguet (LS-507) to deliver relief goods to Paeng victims in the Calamian Islands in the province of Palawan last Nov. 6.
With the Naval Forces West's supervision, the relief operations were made possible in collaboration with the Provincial Disaster Risk Reduction Office, Provincial Social Welfare and Development, and Municipal Social Welfare and Development of Coron, Busuanga and the Bureau of Fire Protection-Coron.
The Naval Reserve Center-West mobilized the 41st Naval Group Reserve reservists and the ROTC students of Palawan State University-Coron to assist in unloading the relief goods when the BRP Benguet docked in Coron Pier.
The ship transported a total of 32,500 kilograms of assorted relief goods intended for the municipalities of Coron, Busuanga and Culion.
A total of 50 sacks of rice and 50 sacks of canned goods were delivered for Coron, while 200 sacks of rice and 100 sacks of canned goods were turned over to Busuanga.
"The relief operations in Calamianes municipalities are part of the Western Command's strong resolve and commitment to bring help to where it is needed the most and hardly hit by Paeng," Wescom chief Vice Admiral Alberto B. Carlos said.
The remaining relief goods are for Culion which will be the next stop of the BRP Benguet.
"I personally commend our Joint Task Force I-CARE, especially our Fleet-Marine elements from the Naval Forces West and the BRP Benguet, as well as our stakeholders for delivering the much-needed relief goods to our kababayans in Calamianes. We hope these will alleviate their suffering and aid them in rising up again after the storm," Carlos added. (PNA)