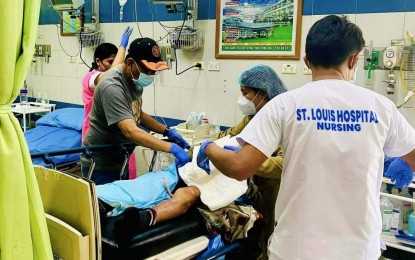 COTABATO CITY – Local and Army officials condemned the bus bombing in Tacurong City, Sultan Kudarat, that killed a passenger and injured 11 others on Sunday.
In a statement Monday, Tacurong Mayor Joseph George Lechonsito described the attack as an "insult to the peace-loving people" of the city.
"This is an act of malicious intent inadvertently involved and affected our city and our people. This is an act that we will not cower from," Lechonsito said of the bombing of a Yellow Bus Line (YBL) unit in Barangay New Isabela, Tacurong.
"To the family of the deceased, our deepest condolences. To the rest of the victims, our great regret," he added.
The YBL unit (2588) from Kidapawan City, carrying 29 passengers, was going to the Tacurong City public terminal when the blast occurred.
Police identified the fatality as Gilbert Garbosa, 56, of Balindog, Kidapawan City.
Lechonsito, a physician, personally attended to the injured bus passengers at St. Louis Hospital, about 200 meters away from the site where the bus was bombed.
Mark, bombing fatality's son, said his father appeared to be reluctant to travel on Sunday but pushed with his trip anyway.
"I hope bombings like this on public transport will stop as they are innocent people like my father. I hope those behind the bombing will stop this senseless thing," he said.
Maj. Gen. Roy Galido, the Army's 6th Infantry Division head, condemned the attack against civilians.
"This is a cowardly act of the terrorist group and peace spoilers that put the lives of innocent civilians in danger and doing so is a violation of both human rights and international humanitarian law," he said in a statement.
Galido, also concurrent head of Joint Task Force Central, said more police and Army checkpoints have been put up in Tacurong City and across the region.
He said Army intelligence units have been helping the Tacurong City police, ready to help them in law enforcement operations to neutralize the terrorists.
Meanwhile, local government units and the Department of Social Welfare and Development also extended monetary aid to the family of the fatality and the survivors, including those with minor injuries.
Extortion eyed
Meanwhile, the Philippine National Police (PNP) said investigators are looking at extortion as a possible motive for the attack.
PNP spokesperson Col. Jean Fajardo said two days before the incident, the management of the Yellow Bus Company received a call from a person who apparently demanded money from the company and threatened that something bad is going to happen if the demand is not met.
"Based on the case conference, they already have a person of interest. They are looking at the possibility early this year, (there was another) bus bombing involving the Yellow Bus Line Company, they are looking at the possibility na iisa po yung responsible ang tinitingnan po nilang motibo is extortion pa rin (there is only one person responsible and that they are looking at extortion as the motive)," Fajardo said in a press briefing at Camp Crame on Monday.
She said a special investigation task group on the case has been formed and is now looking at two local terrorist groups operating in the provinces of Cotabato and Sultan Kudarat.
"In the previous bombing incident recorded in that province, they identified that one group there, particularly the Bangsamoro Islamic Freedom Fighters, where the members were involved in the previous bombings. And they are still looking at this group which is another group that might have collaborated and conspired with this group, to initiate this kind of atrocities in the region," Fajardo said.
She said the police have also recommended to the bus company a point-to-point system for picking up passengers as an added security measure.
"They should avoid picking up passengers along the way so there is a way to properly check and ensure that those bringing explosives cannot sneak it into the bus. We also deployed police dogs to make sure that pieces of baggage loaded into the buses will be thoroughly checked," she said in mixed English and Filipino.
She said PNP chief Gen. Rodolfo Azurin Jr. directed all regional directors to intensify their intelligence gathering and to closely coordinate with other law enforcement agencies to prevent a spillover of the incident to other areas.
"We will have random checkpoints and border control to ensure that those traveling to and from outside respective regions and provinces will be thoroughly checked," she added. (with Anne Lorraine Bustamante and Irish Marie Caidoy-trainees/PNA)