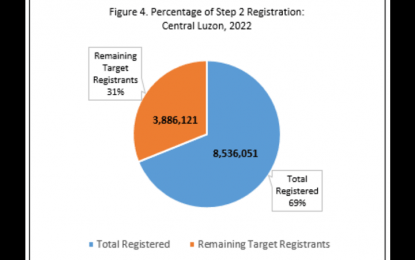 CITY OF SAN FERNANDO, Pampanga – A total of 8,536,051 residents in Central Luzon have registered in the Philippine Identification System (PhilSys).
This represents 68.7 percent of the target registrants in the region, the Philippine Statistics Authority-Regional Statistical Services 3 (PSA RSSO 3) said on Monday.
The report said the latest figure is 31.3 percent below the 12.4 million targeted population in the region.
Among the provinces in the region, Bulacan has the highest number of registrants with 2,449,002, followed by Pampanga with 1,951,985 and Nueva Ecija with 1,587,544.
On the other hand, Tarlac has 1,072,767 registrants; Zambales, 707, 479; Bataan, 597,713 and Aurora, 169,561.
In terms of completed percentage based on the projected target registrants, the province of Zambales topped off with 77.8 percent, followed by Aurora with 71.9 percent and Tarlac with 71.4 percent.
Meanwhile, Bulacan had the lowest achievement with around 66.0 percent, followed by Pampanga with 67.3 percent and Nueva Ecija with 68.7 percent.
The province of Bataan, meanwhile, kept its pace by registering 70 percent of its target.
The report also showed that the number of registrants continuously decreased for all provinces in the region except for Zambales which registered more residents in the second quarter compared to the first and third quarters.
Arlene M. Divino, regional director of the PSA RSSO 3, said Central Luzon has accomplished two-thirds of the target population.
Divino expressed hope that the remaining one-third of the target population will be registered within the year. (PNA)