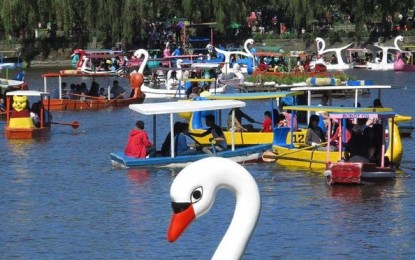 BAGUIO CITY – The City Tourism Office has opened official contact numbers that tourists can contact to verify the legitimacy of service and accommodation providers in this summer capital.
Engr. Aloysius Mapalo, city tourism officer, on Tuesday said the 24/7 hotline (074) 446-2009 can be contacted to verify whether a person's transaction with a client is affiliated with a legitimate accommodation establishment (AE).
"We will coordinate with their chosen AE," Mapalo said in a phone interview.
Tourists may also call or text 0956-572-9097 (7 a.m. - 4 p.m.); 0956-572-9093 (2 p.m. -11 p.m.); 0956-572-9094 (10 p.m - 7 a.m.) to know if they are transacting with a fake or a legitimate service provider.
The official also advised visitors that a list of accommodation establishments (AEs) can be checked on the online tourist information site visita.baguio.gov.ph.
The call was made after another tourist lost PHP17,000 after paying in advance for an accommodation establishment and only to find out that it was a scam.
Mapalo said most of these scams happen on social media.
"While many legitimate businesses engage with their customers through social media, prudence and vigilance on unscrupulous entities must still be observed," he said.
The city government had directed the Baguio City Police Office to investigate the specific incident brought to the attention of the city government.
Red flags for tourists
In an earlier press release of the Public Information Office-Baguio, the city tourism office has publicized some red flags that should guide the public in knowing that they ate transacting with an illegitimate service provider.
He said that a too good to be true travel package that includes transport, accommodation, food, tours, and tickets that are unusually cheap may not be real.
The Philippine Statistics Authority (PSA) earlier estimated that a regular domestic tourist in Baguio spends an average of PHP2,700 per day.
A legitimate business must also have an official receipt.
"This should be basic, always ask for copies of business permits and receipts that can be verifiable; the person you are talking with must be associated with the declared legal business, not just any random person declaring to be a representative without proof," the city's advisory said.
The absence of an official public website or social media page can also be checked to verify.
"Legitimate businesses will promote their services on public and well-recognized online platforms, usually with customer reviews and ratings; so do your research, google if you should," the advisory further said.
Another red flag to watch out for is if a social media page of a purported establishment is newly created.
"Not necessarily all new websites or accounts are illegal, but scammers have the propensity for deleting old accounts and then will create new accounts, using different names every time; so be very scrutinizing," said the advisory.
It added that scammers usually do not show government-issued identification.
Also, the declared address is non-existent but scammers will show fake photos of accommodations in a non-existing address.
"Be very vigilant, always verify by googling or by asking those who know the place or contact the hotlines provided for your safety and prevent being scammed," Mapalo said. (PNA)