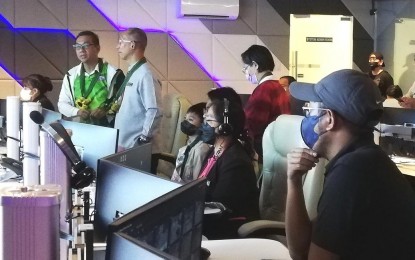 BAGUIO CITY – The Department of Science and Technology (DOST) can share its advanced smart system to help the city government conduct precise planning for the safety of residents.
"We are developing 3D (three dimensional) GIS (geographic information system), kahit sa ilalim ng lupa pwedeng mai-represent in GIS reading. Parang nagde-develop kami ng suitability model and algorithm where you can decide regional or pang national level pwede rin sa city (that can look at the condition underground. We are developing a suitability-like model and algorithm where you can decide on a national, regional, and even for the city)," said DOST Secretary Renato Solidum Jr. during a visit at the Smart City Operation Center at the Baguio Convention Center here on Monday.
The Science chief was also briefed by Baguio Mayor Benjamin Magalong about the local government's smart city initiatives.
"This can be useful when developing schools, settlement, but if you have all those data. Iyong geomapper pwede kayong mabigyan ng credential pwede niyong gamitin (you can be provided with permission to use the geomapper and you can use it)."
The DOST's geomapper is an online platform where the public can look at the hazards that a specific location poses, pre-warn an owner of a structure, or provide a piece of information that can be used by the property owner to prevent or mitigate the effect of the hazard in the area.
The city government had earlier received a seismic map from the DOST which is very specific for earthquakes and will be helpful to engineers in designing structures.
"Earthquake science. If the shaking is high-frequency, and fast-moving and the design of the building is the same as the frequency of the movement of the earth, the shaking will be amplified and it will cause the structure to collapse. Kung ano ang frequency ng lupa at iyong inidesign mong building hindi yan dapat magkapareho para mag kontra sila (the frequency of the soil and the design of the building should be different)," Solidum said.
He added that engineers and architects that will design buildings should refer to the map to guide them in the construction in a specific location.
"It is recognized globally and is designed by a Filipino. We have another app called plan smart ready to recover," which the Secretary said can also be used by the city government, especially with the operations center that is information technology-ready put in place and invested in by the city and the national government for Baguio.
In 2020, the Office of the President allocated PHP200 million for the city government to start its smart city project, allowing it to establish an operations center.
Solidum said it is important that the city government's system is synchronized with the national government to have a nationally consistent database.
For instance, he said the BLISTT (Baguio, La Trinidad, Itogon, Sablan, Tuba, and Tublay) areas can pilot the system by having the same database.
"When the NDRRMC (National Disaster Risk Reduction Management Council) asks for a recovery plan, they can just type the name of the place, input the report and it will make the tables and chart, hazard maps, and the analysis. The person will only analyze the impact and the intervention because options are already available in the system and it will make the report," Solidum told Magalong. (PNA)