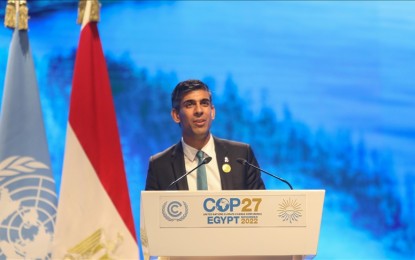 SHARM EL-SHEIKH, Egypt – British Prime Minister Rishi Sunak said Monday that the UK is committed to providing 11.6 billion euros (USD13.3 billion) to tackle climate change, noting that the war in Ukraine called for "faster action" on the climate crisis.
This came in his first international speech as prime minister during his participation in the UN climate change conference COP27 in the Egyptian seaside resort of Sharm el-Sheikh.
"I believe we found room for hope in Glasgow. With one last chance to create a plan that would limit global temperature rises to 1.5 degrees (Celsius), we made the promises to keep that goal within reach," he said in his speech.
Sunak stressed that the UK will triple its funding on adaptation efforts to 1.5 billion euros by 2025.
He said the war in Ukraine was not a reason to slow down on climate change, but a reason to act faster and an opportunity to diversify the UK's energy supply by investing in renewables.
Climate disasters
In his message, UN Secretary-General Antonio Guterres announced an action plan on Monday for an early warning system against climate disasters.
Guterres said the plan calls for initial new targeted investments of USD3.1 billion between 2023 and 2027 – roughly six percent of the requested USD50 billion in adaptation financing.
"Vulnerable communities in climate hotspots are being blindsided by cascading climate disasters without any means of prior alert," Guterres said.
"Countries with limited early warning coverage have disaster mortality eight times higher than countries with high coverage.  The Action Plan launched today sets out the way forward to right this wrong, and protect lives and livelihoods."
The early warning system would allow communities hazardous climate-related events and would reduce by 30 percent the damages from extreme climate changes.
"People in Africa, South Asia, South and Central America, and the inhabitants of small island states are 15 times more likely to die from climate disasters. These disasters displace three times more people than war. And the situation is getting worse." Guterres said.
Financial commitments
In his own speech, French President Emmanuel Macron called on rich countries to ensure "climate justice" and fulfill their financial commitments towards tackling climate change.
"We must come to terms with the idea of financial solidarity," he said in a speech to the UN climate summit COP27 in Egypt's seaside resort of Sharm el-Sheikh.
The French leader said his country is committed to investing "€6 billion annually to confront climate crisis, including €2 billion dedicated to adaptation mechanisms."
Macron underlined the need for rich countries to give "more than USD100 billion" to the countries most affected by climate change, pointing out that this financial pledge was discussed during previous climate summits.
"Beyond these figures, we must have specific actions ... and come up with partnerships that will deliver this (climate) justice," he said.
Macron called on world leaders not to "compromise" the goal of confronting climate change as a result of the Russian war on Ukraine.
Taking place on Nov. 6-18, COP27, which began on Sunday, is being attended by more than 100 leaders and heads of state to discuss ways to lessen the negative impacts of climate change and adapting to its repercussions. (Anadolu)