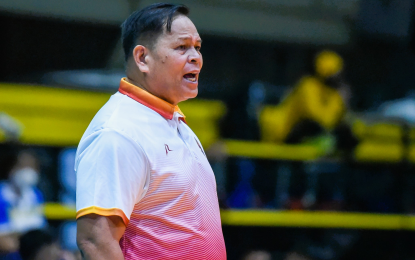 MANILA – The University of Perpetual Help has remained perfect in the ongoing V-League Men's Collegiate Challenge and head coach Sinfronio "Sam" Acaylar hopes to keep it that way until the end of the eliminations.
"We are aiming for the top spot in our pool," he said in an interview on Tuesday.
After picking up its third straight win last Sunday at the expense of the Ateneo University Blue Eagles, 22-25, 25-19, 25-22, 25-22, the Altas are now in second place in Pool B.
Ateneo is leading at 3-1 while San Beda College is third at 2-2, followed by Far Eastern University (1-2), University of the Philippines (1-2), and San Sebastian College (0-3).
On top of Pool A is National University, which clobbered Adamson University, 25-17, 25-22, 25-21, for its fourth consecutive win.
De La Salle University occupies the second spot at 2-2 following a 19-25, 25-22, 15-25, 23-25 loss to University of Santo Tomas, which is at third with a 2-1 slate.
Adamson and College of St. Benilde have identical 1-2 cards while Arellano is winless after three outings.
Perpetual has two more games left in the elimination round -- against San Beda College on Nov. 11 and against San Sebastian College on Nov. 13.
"We are working to be the No. 1 in our group. But we respect our opponents, they are all good and strong," said Acaylar, who is assisted by Michael Cariño.
Cariño is an assistant coach of the national men's and women's team. He is the head coach of NCAA women's champion St. Benilde.
"We only put in our minds that we are the NCAA champion that's why we fight for it, but the most important is the pride of being a Perpetual team with our Tamayo family who helps us and who serves as our inspiration, especially Chairman Tony Tamayo," the 61-year-old Acaylar, who hails from Cagayan de Oro, Misamis Oriental, said.
Under Acaylar, the Altas bagged 12 championships, including sweeps from 1985-1990, 1993, 1994 and 1995.
"I've been coaching for 28 years now and my team is still a champion. God is good," said Acaylar, who studied Physical Education at the Manuel L. Quezon University, where he has earned 22 units in a Master's degree program.
The Altas, who returned to practice last June 25, are using the V-League as tune-up for their title-defense in the NCAA.
"We joined the V-League because this is part of our program for exposure, to develop the players' skills and mental toughness," Acaylar said.
Acaylar was head coach of the national men's team in the 2017 SEA Games and the national women's team in the 2014 Asian Seniors Championships.
"We expect good performance and solidarity because we want to be very competitive as we look forward to the NCAA scheduled on February next year," he said.
Leading the Altas are open spikers Hero Austria and Louie Ramirez, setter John Christian Enarciso, libero John Philip Pepito and opposite spiker Klint Michael Mateo. The four are members of the champion team while Mateo is a new recruit from Bacolod.
Because of his expertise, Acaylar became training director of the women's team during the Philippine Super Liga Selection (2015-2016). He served as head coach of Sta. Lucia Lady Realtors (2017), Cignal HD Spikers (men and women, 2013-2016), PLDT Philippine National Team (2015-2016), De La Salle University-Manila (2010-2012) and as consultant of Southwestern University.
Aside from indoor volleyball, Acaylar coached and led Perpetual to the NCAA beach volleyball title in the juniors (Season 94, men's (Season 88) and women's (Season 85-87) divisions. (PNA)