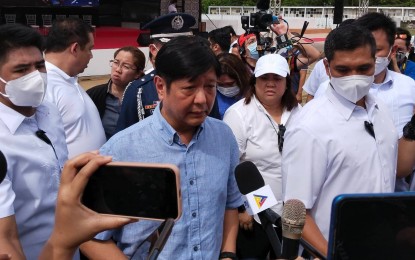 MANILA – President Ferdinand R. Marcos Jr. on Tuesday bared his plan to put the National Disaster Risk Reduction and Management Council (NDRRMC) under the supervision of the Office of the President (OP).
Marcos made the pronouncement in a chance interview on the sidelines of the 9th year commemoration of Super Typhoon Yolanda (Haiyan) at the Holy Cross Memorial Garden in Tacloban City, Leyte province.
"There has been a suggestion that has been going around for many years now, and that we will put the disaster response team, national response team under the Office of the President. I think that we are headed in that direction because of the weather that we are suffering now from the effects of climate change," he said.
Marcos said he is keen on giving the OP the authority to oversee the NDRRMC "in the near future."
He said the plan would help improve the country's disaster response.
"Now, there's the NDRRMC and [its personnel], they are the ones who are tasked to do this [disaster response efforts], but I think it would be equally, if not, a more robust system, if we put it under the Office of the President," Marcos said.
"We are continuing to refine the procedures, to refine the processes, the organization, so that we will do even better than we have so far," he added.
The NDRRMC is the highest organized and authorized body for the country's disaster risk reduction and management.
Established by virtue of Republic Act 10121 in 2010, the NDRRMC is composed of various government, non-government, civil sector, and private sector organizations.
The council is vested with the overall policymaking, coordination, integration, supervision, monitoring and evaluation functions focusing on disaster risk reduction and management.
The NDRRMC is currently chaired by Defense officer-in-charge Undersecretary Jose Faustino Jr.
The Chief Executive pointed out that post-disaster response is not about being quick, but about putting up the needed infrastructure and making sure that affected local governments are functioning.
To simplify flow of directives
For his part, Speaker Martin Romualdez said the proposed transfer of the NDRRMC to the OP would give the President a direct hand in managing government responses to calamities.
"It simplifies the flow of responsibility and directives to the more than 30 departments, agencies and organizations sitting in the council," said Romualdez who joined Marcos during the event.
He said the proposal would also mitigate the impact of climate change-related issues and problems, which are worsening like extreme weather conditions.
"Like many nations, we have no choice but to prepare for these eventualities. Our situation is even peculiar because we are visited by an average of 20 tropical storms every year. We have to streamline our disaster responses and the management of risks to natural calamities," Romualdez said.
He stressed that the country has to become "climate change resilient." (with reports from Filane Mikee Cervantes/PNA)