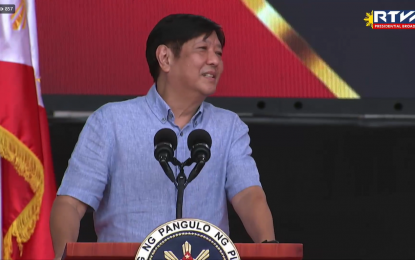 MANILA – Despite the ordeal that the typhoon victims suffered when Super Typhoon Yolanda wreaked havoc in 2013, Filipinos continue to demonstrate gallantry and benevolence, President Ferdinand R. Marcos Jr. said on Tuesday.
"It is important to come to this commemoration because it is also a demonstration and manifestation of the strength and courage of Filipinos, to remind ourselves that Filipinos are brave, that Filipinos are kind, and that Filipinos will conquer all, especially if it is for their community, for their families, and for the land that they love," he said in a ceremony held at the Holy Cross Memorial Garden in Tacloban City, Leyte province.
Marcos also emphasized the need to commemorate the ninth anniversary of the killer typhoon to pay homage to the thousands of people who perished, especially the "uncounted dead."
"It is sometimes asked when we do have a commemoration of this kind, they say, "Why do we commemorate Yolanda still after nine years?" The people — those whose families had a loss from their families of a loved one, have learned to live with that grief. And although we continue to feel sad, life has gone on for them," Marcos said.
"So why continue? Why bring it up? I come here because I must commemorate those uncounted dead that up to now, we do not know how many that number is. We must come to these commemorations so that we will remember those who were told not to remember," he added, apparently questioning the accuracy of the reported death toll during the onslaught of Yolanda.
Marcos said it is only befitting to honor those who were killed by the super typhoon, adding that their memory "dies," if the country fails to commemorate the Yolanda tragedy.
"If you remember during the count of the casualties, the count was stopped, and we knew that there were still thousands out there. And for those thousands, those countless thousands, we come here, we commemorate," he said.
In 2013, Yolanda unleashed its wrath in central Philippines, killing an estimated 6,300 people and leaving over 4.4 million people displaced and homeless.
Tacloban City, the regional hub of the Eastern Visayas region, was considered as Yolanda's ground zero.
Marcos expressed elation after Tacloban City has been "built back better," saying this gives Filipinos a renewed sense of hope.
"It is a wondrous sight to see. It always gives us hope that even if there are tragedies and disasters in other places, we know that Filipino spirit will never be quelled. The Filipino spirit will always burn bright and bring back normal life to their communities. That is what we commemorate," he said.
He also thanked the international community and non-government organizations for providing assistance to the Yolanda victims.
"[You did] all of this out of the generosity of your own heart once again. Many people owe their lives to you. And for that, we cannot thank you enough," Marcos said.
Marcos also offered a wreath and attended the blessing of the Yolanda Memorial Mass Grave at the Holy Cross Memorial Garden.
Government assistance
Meantime, Marcos also led the ceremonial distribution of various government assistance to the qualified beneficiaries at the Leyte Academic Center in Palo town, also in Leyte.
During the event, cash aid was granted to recipients of the Department of Agriculture's (DA) Rice Farmer Financial Assistance Program, the Department of Social Welfare and Development's (DSWD) Assistance to Individuals in Crisis Situation (AICS), and the Department of Labor and Employment's TUPAD Emergency Employment Program.
A unit of disinfection truck was handed over to the provincial government of Southern Leyte province, while an ambulance was also given to other local government units under the Department of Health's Health Facilities Enhancement Program.
The Department of Information and Communications Technology (DICT) also distributed laptops to intended recipients of the Tech4ED Program.
Marcos said his government's resolve is to give Filipinos a comfortable life despite the challenges they are facing.
"So, that is what we are putting at the top of our priority list," he said.
"Hindi mabilis ang pagbabago kahit na i-adjust natin ngayon, siguro ilang buwan pa makikita iyan one, two, three months pa bago makita ang effect, pero sa tingin ko (Change cannot be done overnight, even if we adjust it now. Perhaps, it can be felt one, two or three months from now. But I think) we are going in the right direction," Marcos added. (PNA)