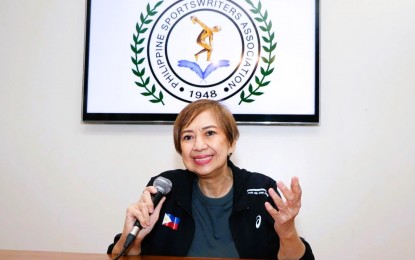 MANILA – The Philippine Sports Commission (PSC) wants more women to get into sports by staging tournaments such as the 8th Women's Martial Arts Festival slated from Nov. 12 to 17 at the Rizal Memorial Sports Complex (RMSC) in Malate, Manila.
"My objective is to increase the participation of women athletes," said PSC Commissioner Olivia "Bong" Coo during the weekly Philippine Sportswriters Association (PSA) Forum at the PSC Conference Room on Tuesday.
The 8th Women's Martial Arts Festival features 11 sports, nine regular - pencak silat, wrestling, sambo, taekwondo, muay Thai, kickboxing, karate, jujitsu, kurash - and two demonstration namely, arnis and judo. All competitions will be streamed live on PSC Women's Martial Arts Festival Facebook page.
Coo is hoping to discover more Filipina talents who will follow in the footsteps of the Olympic weightlifting gold medalist Hidilyn Diaz-Naranjo, World Games karate champion Junna Tsukii, World jujitsu champions Meggie Ochoa and Kimberly Anne Custodio, and US Open Junior girls' singles titlist Alex Eala, among others.
"Nakikita naman natin nitong nakaraan na talagang karamihan ng nananalo ay kababaihan. Paramihin pa natin yung women athletes and that's why we are here to support (We can see in the past that most of the winners were women. Let's increase the number of women athletes and that's why we are here to support)," she said.
Coo, a bowling legend and Philippine Sports Hall of Famer, said she looks forward to her first major project under the Women in Sports program.
She is also encouraging parents to expose their children to sports as early as possible.
Coo said the tournament can be used by National Sports Associations (NSAs) to search for new talents to strengthen their national pool.
"We hope that during our term, we can help produce more medals for the country," the former four-time world champion said.
Meanwhile, Kurash Federation of the Philippine President Rolan Llamas said the Women's Martial Arts Festival is part of the selection process for athletes who will represent the country in the 6th Asian Indoor and Martial Arts Games (AIMAG) in Bangkok and Chonburi province, Thailand from Nov. 17 to 26, 2023.
Aside from the AIMAG, also scheduled next year are the Southeast Asian Games in Cambodia and the Asian Games in Hangzhou, China. (PNA)