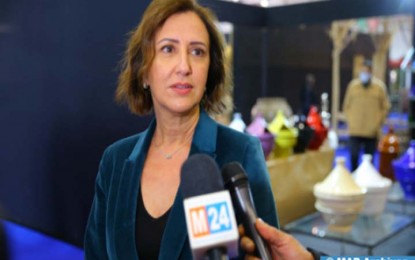 LONDON – Morocco aims to double the number of tourist arrivals from the United Kingdom by 2027, the Minister of Tourism, Handicrafts and Social and Solidarity Economy, Fatim-Zahra Ammor, said on Monday here.
The Moroccan participation in the World Travel Market (WTM), held from Nov. 7 to 9 in the British capital, is "extremely important" since it comes in a phase of recovery, Ammor told MAP.
She said Morocco has restarted well after the pandemic and has managed to recover more than 76 percent of tourist arrivals and more than 100 percent of tourism revenue.
While it is one of the most important fairs in the world, Morocco had to have a remarkable presence, in line with its potential, she said, adding that it is for this reason that several tour operators and representatives of the regions have made the trip.
At a time when Europe, with Spain and France, is the main source market to Morocco, England is now a large market, which represents nearly 600,000 arrivals and more than 2 million overnight stays per year, said Ammor.
She said England is therefore Morocco's third market in terms of tourists and the second in terms of overnight stays.
"Our long-term goal is to double the number of tourists visiting Morocco by 2030," she said, adding that on the British market in particular, "the goal is to double the number of tourists in the next four years."
This fair is therefore the ideal opportunity to meet with major tour operators, airlines and all major players in the tourism sector, in order to put in place concrete plans to double this volume, concluded Ammor.
Amidst some 3,500 exhibitors, the stand of the Moroccan National Tourist Office (ONMT) enjoys a prominent place with about 30 tour operators, Royal Air Maroc, representatives of regional tourism councils of several regions of the Kingdom and the National Confederation of Tourism (CNT). (MAP)