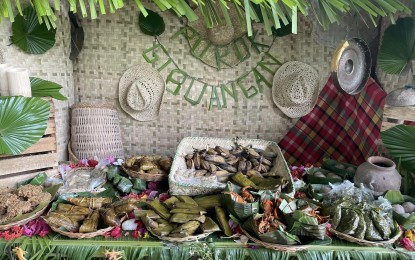 ILOILO CITY – An Indigenous People's (IPs) Day, celebrated for the first time by the Banay Bukidnon in Barangay Panuran in Lambunao, Iloilo, served as a venue to showcase their customs, rituals and traditions.
"Panuran is a 100 percent IP barangay. They decided to stage their first IP Day showcasing the culture and tradition of the Panay Bukidnon since they are also the first to organize the School of Living Tradition," said Jennifer Osorio, municipal tourism officer of Lambunao, in an interview on Tuesday.
She said that on Monday, participants witnessed the thanksgiving rituals of the IPs for a plentiful harvest dubbed "panguyang." where they offer local cuisines only found in their area. Also presented is the dramatization of the "batak-dungan" usually done to children, "harana" or serenade, "pamalaye" or the traditional custom of asking the girl's hand in marriage, and "himpit" or the act of marriage.
Osorio said the staging of the IP Day was significant for the barangay with over a thousand population since it raised awareness, especially of the younger generation, on the need to preserve their tradition.
She is also hoping for the Panuran National High School to possibly incorporate in their school subjects the "binanog dance," the traditional dance of the Panay Bukidnon inspired by the bird known as "banog" or hawk.
"While it was the first Indigenous People's Day, it was successful because it has the support of everyone," she said.
Osorio added that hopefully, it will also inspire other IP barangays to also establish their School of Living Tradition (SLT) so their cultures will be preserved and not forgotten.
Other IP barangays are Cabatangan, Jayobo, Caguisanan, Walang, Agsirab and Bagongbong.
"Hopefully our IP Museum, which is the first in Western Visayas, will be completed since a space has been provided for the SLT," she said.
Meantime, she said the local government of Lambunao has allotted a "Semana sang mga Bukidnon" every Binanog Festival.
Aside from the showcase of IP houses, the participants coming from the town's seven IP barangays also display their indigenous food.
The Binanog Festival this year will start on Dec. 9. (PNA)